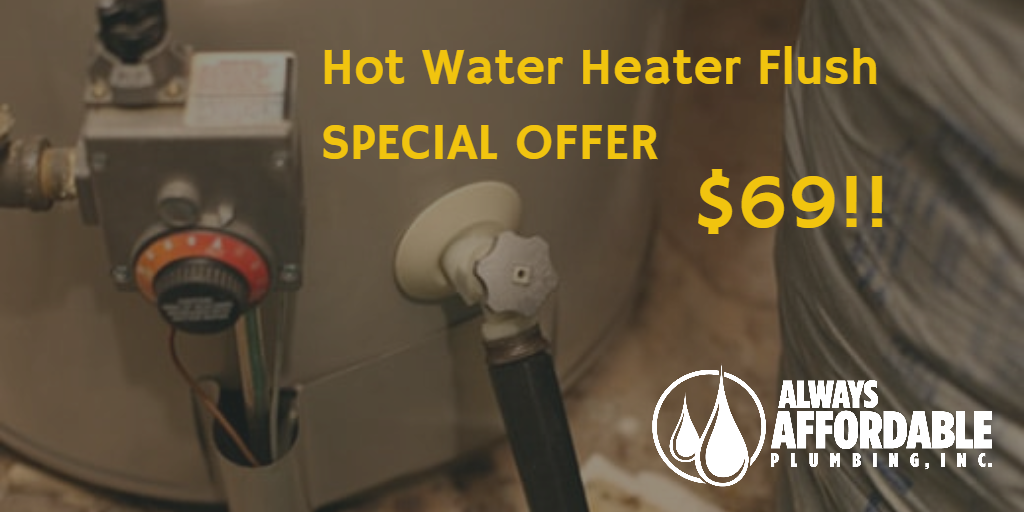 06 Apr

Now Is the Time to Flush Your Water Heater!
Spring is Ideal for Tackling This Annual Task – Take Advantage of This SPECIAL OFFER!
Affordable Plumbing Sacramento | Hot Water Heater Flush
The Always Affordable Plumbing Sacramento team may be busy, but our bet is that you've got some time to kill. Spring of 2020 is an interesting time in Sacramento—and all of California. Millions of people in the state are staying home amid the COVID-19 pandemic, so what can you do?
Our advice is simple: Flush your hot water heater! 
FOR A LIMITED TIME, GET A PROFESSIONAL WATER HEATER FLUSH FOR JUST $69!!! CALL TODAY
As a result of shelter-in-place orders and temporary business closures, many people are taking on home projects. Keeping your water heater in good working order is an important maintenance task. There's no need to put it off—especially when doing so could lead to more costly repairs later on.
Best of all, draining the tank only takes about half an hour or less. After than, you can get back to your puzzles or bingeing the newest series on Netflix.
Why Flush Your Tank At All?
There's more to water than water. In other words, besides the expected H20, water also carries dissolved minerals. Over time, these minerals can settle out and pile up in places where water sits.
Above all, you want only water in your hot water heater. Mineral deposits and sediment interfere with the appliance's proper function. This crusty junk can do anything from overtaxing the heater to clogging pipes.
Such problems may be minor, or maybe even go unnoticed. On the other hand, they could lead to early failure, causing the heater to die before its time. Most importantly, they can even cause a leak, sending dozens of gallons gushing where water shouldn't go. If your tank is in a garage, anything in the leak's path can get soaked. And if your tank is somewhere in your house, you could be looking at serious damage. Subsequently, that can lead to seriously expensive home repairs.
Out With the Old …
If you have not flushed your hot water heater before, now is the perfect time. Take advantage of this time at home and call Always Affordable Plumbing to help with your hot water heater flush. We believe that a little bit of appliance maintenance goes a long ways in preventing major repairs, which is why we are offering a SPECIAL DISCOUNT to flush your hot water heater.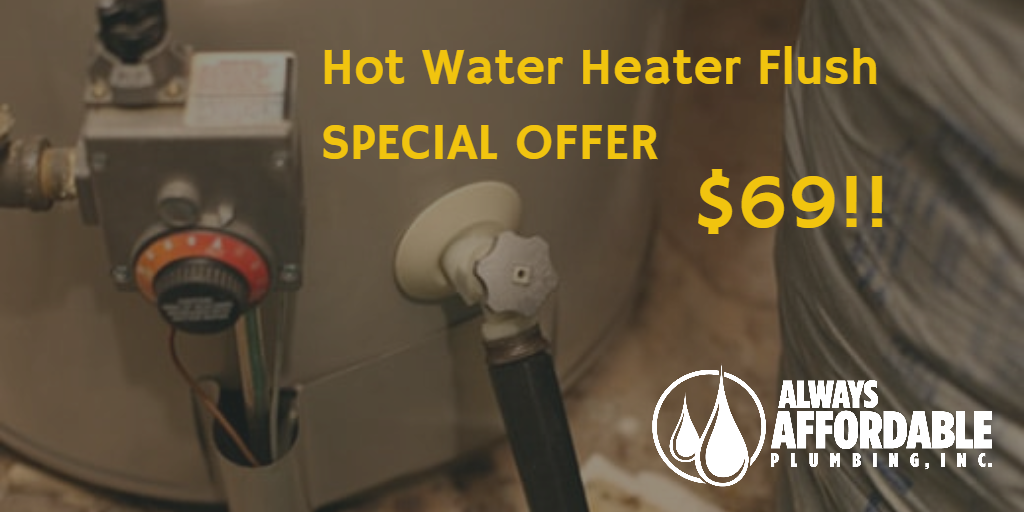 For a limited time, Always Affordable Plumbing Sacramento will perform a professional water heater flush for JUST $69! Included with this service is a complimentary whole home plumbing inspection.
A hot water heater flush can extend the life of water heater and improve its efficiency. It is a simple and affordable maintenance item that should be done every year. So don't put it off any longer! CALL ALWAYS AFFORDABLE PLUMBING SACRAMENTO TODAY!
Call Today to Schedule Your Flush
If you're ready to tackle some home plumbing maintenance, we can help. Call Always Affordable Plumbing at (916) 970-009 to schedule your discounted hot water heater flush.
We understand that these are tough times. However, when it comes to your plumbing, Always Affordable Plumbing is here for you. Please reach out if you need help with a clogged drain, broken toilet, or even just some plumbing maintenance, 24/7.
For the most affordable plumbing in Sacramento, CONTACT Always Affordable Plumbing!
Service, quality, and affordability for our customers always comes first. Call today to schedule your appointment!
For our great plumbing tips and updates, FOLLOW US ON FACEBOOK!
CLICK HERE to learn why "expensive" doesn't always mean "best" when it comes to plumbing
Find out more about Always Affordable Plumbing (Lic. #1003782) by calling (916) 970-0099.
Affordable Plumbing Sacramento | Hot Water Heater Flush