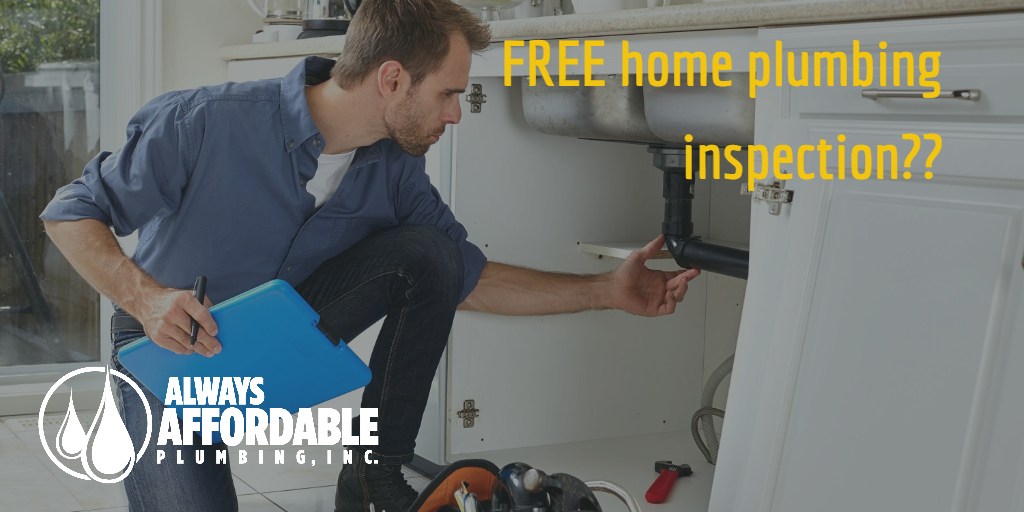 07 May

The Benefits of a Top-to-Bottom Free Home Plumbing Inspection
Always Affordable Plumbing Can Find Little Problems Now … So You Don't Deal With Bigger Problems Later
Free Home Plumbing Inspection | Always Affordable Plumbing Sacramento
Are you sheltering in place? If so, you should make sure that your place is shelter-worthy! This goes beyond having a comfy couch and high-speed Internet. In other words, the structure itself should be solid and safe.
Unfortunately, the Always Affordable Plumbing team knows all too well the damage an undetected leak can do to a home. We regularly see plumbing emergencies in Sacramento that happened as a result of small problems getting bigger over time. Many people go about their day not realizing that there's a "ticking time bomb" in their walls or under their floors. Or maybe they are aware of a minor leak, stubborn pipes, or other warning signs, but figure it's no big deal. Meanwhile, trouble is brewing the form of plumbing issues that can lead to costly repairs and even hazardous conditions in the home!
Above all, your house should be a safe sanctuary—especially in times where you have to spend most or all of your time in it. That's why Always Affordable Plumbing offers free whole home plumbing inspections.
Spotting the Obvious: Bursts and Leaks
Firstly, a whole home inspection is ideal for finding water flowing (or even trickling) where it shouldn't. We will inspect your property—indoors and outdoors—for signs of leaks and burst pipes. And certainly, if you are suspicious of an ongoing gurgling sound, ceiling stain, or soggy area in the yard, let us know! We can help to determine the cause of the unwanted moisture, as well as suggest a fix. For example, we may discover a burst heating or main pipe, or a leaking hot water heater or toilet.
Attack the Block: Moving Clogs Along
During a whole home plumbing inspection, we also work to find trouble areas. Is your shower drain sluggish? Does your sink stop up on a routine basis? Are you smelling smells you shouldn't smell in your bathtub? In short, you may have a clog. We can discover, diagnose, and dispatch the cause of any backups. Whether it's plunging a toilet or cleaning out a bathroom or kitchen sink, we can handle it. Of course, we specialize in moving along clogs in harder-to-reach areas, too. We may recommend hydro jetting to eliminate buildup, or we could find a bigger problem. For instance, a collapsed pipe underground can create problems, but requires more repair work than a simple flush.
Appliance Reliance: Ensuring Your Equipment is Working
From your toilets to your hot water heater, you have some hard-working (and expensive) appliances in your house. Not only can we make sure they are functioning properly, but we can recommend upgrades that can save you money. Now, during a period of economic uncertainty, is an ideal time to be sure you are getting the most out of every dollar. Consider that your home is not only your safe place. Moreover, it is an investment in the future.
Everything Else: Including the Kitchen Sink
Our inspectors are experienced at finding problems. In other words, we know what mineral buildup on your faucet means for the lifespan of the fixture. We can detect tree root intrusion—and plan what to do about it. If it involves pipes, water, and just about anything related to them, we will check it out,
OK, Then What? Home Plumbing Inspection!
If we find anything that we believe needs attention, we will outline the problem and the solution for you. After that, you can make the call for what to do next. We will always be fair and honest in our pricing. Contact us at Always Affordable Plumbing by calling (916) 970-0099.
For the most affordable plumbing in Sacramento, CONTACT Always Affordable Plumbing!
Service, quality, and affordability for our customers always comes first. Call today to schedule your appointment!
For our great plumbing tips and updates, FOLLOW US ON FACEBOOK!
CLICK HERE to learn why "expensive" doesn't always mean "best" when it comes to plumbing
Find out more about Always Affordable Plumbing (Lic. #1003782) by calling (916) 970-0099.
Free Home Plumbing Inspection | Always Affordable Plumbing Sacramento