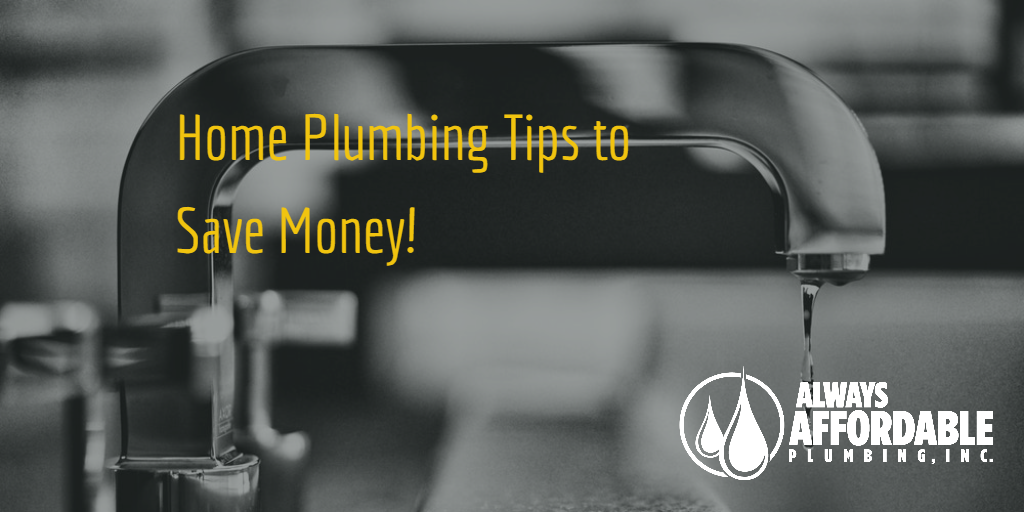 27 Jun

Home Plumbing Tips | Affordable Plumbing Sacramento

Always Affordable Plumbing Tips | Home Plumbing Tips
These Simple Steps Can Help You Prevent Expensive Plumbing Issues
Have you ever had something break, only to find out after the fact that it would have been really easy and inexpensive to prevent? Well, Always Affordable Plumbing wants to help make sure you keep your home plumbing in tip-top shape! Follow these easy tips to make sure your home plumbing is always ready to work!
Easy Plumbing Tips
In the bathroom:
inspect your faucets for leaks and corrosion
check under the sink for drips and leaks
clean the sink drain with an inexpensive hair removal tool
test the toilet for leaks and make sure it flushes properly (click here to learn how to easily repair your toilet)
check for leaks around the base of the toilet
do you know how to shut off the toilet water fill valve? Turn it off and on to make sure it isn't stuck
is your shower head corroded with mineral deposits? Try this inexpensive tip to clean it safely!
In the kitchen:
inspect your faucet for leaks and corrosion
check under the sink for leaks or water damage
does your garbage disposal drain smell? Try this tip to freshen it up!
Water heater:
make sure the area around the water heater is clear
make sure the temperature is not set above 120F (this will prevent scalding and also save you money)
consider draining a couple gallons from the water heater to get rid of corrosion and sediment-this can go a long ways in keeping your water heater efficient and working properly
DID YOU KNOW? Most water heaters last about 15 years…you can find out how old it is by looking at the first 4 numbers of the serial number…those represent the month and year it was made. 
Laundry Room:
CLICK HERE to read about easy washing machine maintenance
Affordable Plumbing is a Call Away
These tips are here to help you catch small problems before they become big. Always Affordable Plumbing is here to help with any job, big or small! So if our tips help you find an issue, give us a call and we can help.
If you need a Sacramento plumber, call AAP. Whether you need a FREE Home Plumbing Inspection, emergency 24-hour plumbing services, leak detection, or have an issue with slow drains, Always Affordable Plumbing is here for you. Service, quality, and affordability for our customers always comes first. Call today to schedule your appointment!
Learn some of our best affordable plumbing tips to PREVENT expensive plumbing repairs!!
Affordable Plumbing Sacramento | Home Plumbing Tips