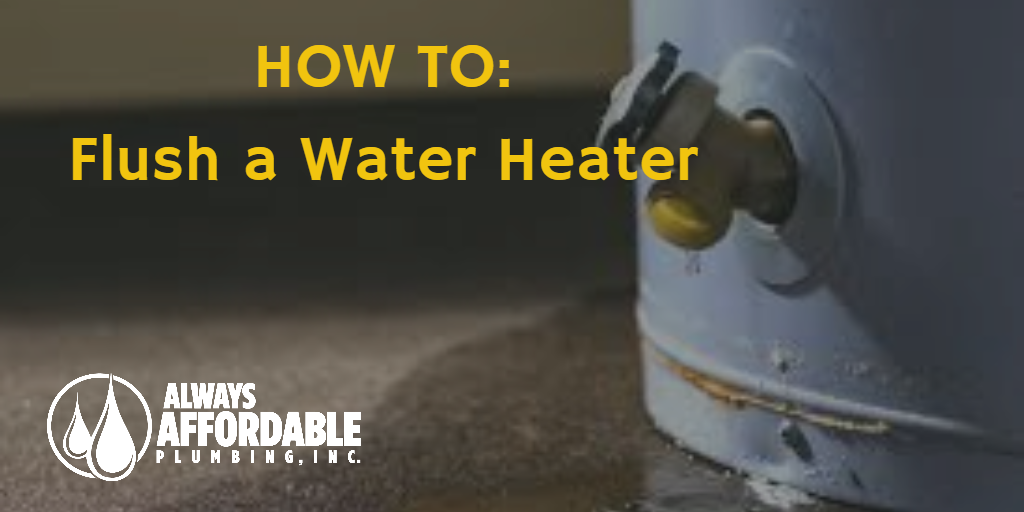 22 Apr

Best Plumber Tips: How to Flush Your Water Heater
SPECIAL OFFER: $69 Water Heater Flush AND Home Plumbing Inspection!
Best Plumber Sacramento | Flush Your Hot Water Heater
Performing a hot water heater flush is an important part of water heater maintenance. It prevents sediment build up in your tank, which will help prevent tank failure and rupture. A water heater flush will help ensure you get the maximum life out of your tank. Additionally it helps keep your tank running efficiently, which can save you money.
TOP REASONS TO FLUSH YOUR WATER HEATER:
Prevent sediment build up
Prevent tank rupture and failure
Get the maximum life out of your tank
Keep your tank running efficiently
Save money on water use and power
Flushing your water heater is a simple but important maintenance process that can save you lots of money. Right now, Always Affordable Plumbing is offering a special discount to flush your water heater for just $69!! While we are performing the water heater flush, our professional licensed plumber will also perform a whole home plumbing inspection for FREE. This inspection looks for hidden leaks and common problems, so you can fix things before they become a major expense.
Can you DIY?
Maybe you are taking advantage of the "stay-at-home" order to sharpen your handyperson skills. Good for you! Flushing your hot water heater is probably something most amateur DIY-ers can handle. It just takes a little time and a few simple tools. Always Affordable Plumbing thinks that $69 to have a professional plumber flush your water heater is a real steal-but if you want to give it a go on your own, here our some best plumber tips for you to follow:
Step-by-Step Hot Water Heater Flush
1. The first step in flushing a hot water heater is draining out the existing water. Above all, you need to be sure that you have everything ready before you set the liquid free. In other words, get a hose, a bucket, and some towels. Then shut off any power supplies and utilities connected to the appliance. That is to say, there should be no water, gas, or electricity running to the heater while you do your work.
2. Next, take a break for a few hours. Maybe start that series you were planning to watch later. Meanwhile, the water in the tank will gradually cool off. During the draining phase, you don't want to be splashed by hot water fresh from the source.
3. Once you're ready to dive into the actual draining, put your bucket under the pressure release valve. Then, open the valve, watch, and listen. You want to see water dripping into the bucket and/or hear air hissing.
4. Next, attach one end of your hose to the drain, and position the other end somewhere lower than the valve. This can be a large bucket, drain, sink, or anything that can handle 50 gallons. In other words, don't just leave the hose lying on the floor so water floods around your feet!
5. One more step before letting it fly: Find some other hot water taps closest to the tank and open them. Keeping them open will allow water in the system to flow better.
6. After that, it's time to get that old water out! Turn on the tank's hot water heater valve, and watch the flow from the hose. This part may take 30 minutes, but will likely happen in less time.
7. Once the tank is empty, close the valve, fill the tank up a bit again, and then drain that. As a result of one or two (or three) more quick flushes with cold water, sediment can break up and come out. Repeat these mini-flushes until the water coming from the hose runs clear.
8. Finally, close the valve, detach the hose (watch for water coming out the end when you unscrew it), and fill the tank to the top. In the meantime, turn on another hot water faucet somewhere in your home. This lets you know whether water is coming from the tank and into the pipes as it should. Keep the tap running until you don't see any sputters from air escaping. All you want is a pure rush of water.
9. With your tank full—and only once it's full—get energy back to the appliance and power up the heater again. From there, it's only a matter of time before you've got a happy hot water heater and plenty of hot water. Don't forget about your show while you wait!
Be Your Own Best Plumber
If DIY is your thing, then we hope these steps help you! However, if you just need some help with this important water heater maintenance, call us. You can reach Always Affordable Plumbing at (916) 970-0099, any time.
We understand that these are tough times. However, when it comes to your plumbing, Always Affordable Plumbing is here for you. Please reach out if you need help with a clogged drain, broken toilet, or even just some plumbing maintenance. WE ARE OPEN AND AVAILABLE AS AN ESSENTIAL BUSINESS DURING THESE CHALLENGING TIMES!!!
For the most affordable plumbing in Sacramento, CONTACT Always Affordable Plumbing!
Service, quality, and affordability for our customers always comes first. Call today to schedule your appointment!
For our great plumbing tips and updates, FOLLOW US ON FACEBOOK!
CLICK HERE to learn why "expensive" doesn't always mean "best" when it comes to plumbing
Find out more about Always Affordable Plumbing (Lic. #1003782) by calling (916) 970-0099.
Best Plumber Sacramento | Flush Your Hot Water Heater