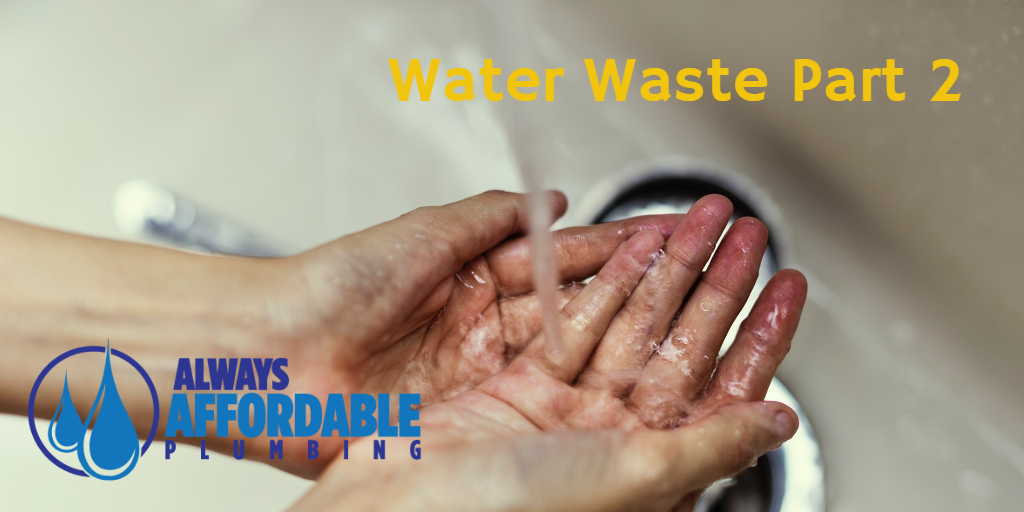 25 Sep

Best Plumber Tips: Water Use Beyond Showers and Toilets
Discover What Else in Your Home Sends Gallons Down the Drain
Always Affordable Plumbing in Sacramento Presents Best Plumber Tips: Three More Reasons to Watch Your Water Usage
Toilets and showers. We've previously explained that these two features are responsible for roughly 45 percent of water usage in the home. But even though this pair sends about half of your house's water to the sewers each day, they're not alone.
According to the Water Footprint® Calculator, just three elements are responsible for another 48 percent of daily water usage. Two of them are appliances. However, the third is more of a situation that the best plumbers can deal with. Actually, you can probably deal with it yourself—but Always Affordable Plumbing in Sacramento is ready in case you want professional help. Let's take a look:
That Sinking Feeling: Wash Your Hands of Problems
Faucets are in third place in terms of daily household water use. Consider that you likely have more of them than any other water-using feature in your home. For example, you probably have one, two, or three bathroom faucets. Moreover, you surely have a kitchen faucet. In addition, you likely have a faucet in a utility sink in the garage.
Every sink sees daily use. Taking a trip to the toilet? After that, you wash your hands. You do wash your hands, right? Furthermore, your bathroom sink runs while you brush your teeth, shave, clean your glasses, and more.
Then there's your kitchen sink. In many households, this is also a place to wash hands—especially before a meal. In fact, you use water before, during, and after the meal prep itself. For instance, you may rinse vegetables, fill a pot to boil for pasta, or scrub up after handling raw chicken.
This all adds up to, on average, 26 gallons a day. To clarify, that's roughly 19 percent of your daily water usage.
Money Laundering: It Costs to Clean Your Clothes
In the same vein as you needing a shower when you're dirty, your clothes also need a frequent wash. Whether you separate lights from darks or just throw it all into one cycle, you're using your washing machine. And depending on the size of your family, you may be using it every day. Cloth diapers require a lot of washings. So do grass-stained jerseys and others sports uniforms. But the average daily water use for washing machines in U.S. homes is 23 gallons a day. That's 17 percent of the total.
Heating up water takes more energy (and makes the water heater work harder). Therefore, using cold water can help conserve. So can only washing items when they truly need it. Say you put on a shirt right out of bed, walked around the house a bit, and then took it off to change into something new. You certainly don't need to put it in the wash.
Hidden Problems: You May Be Wasting Water and Not Even Know
Fifth on the list, dripping out 17 gallons a day, are leaks! These may be the obvious trickles (or sprays) you would call a plumber to handle. More likely, they are slow, quiet, and barely noticeable. The 12 percent of your daily household water usage is no small amount, however! You would certainly notice the difference in your monthly water bill.
Call Sacramento's Best Plumber
There are many tips and tricks for discovering leaks. Call us at Always Affordable Plumbing for a free whole house inspection. If we find a problem, we can give you an estimate so you can decide whether you want us to handle it.
The Always Affordable Plumbing team in Sacramento cares about saving water. Helping reduce water waste can also mean making sure you don't have any leaks. Contact us to identify common areas of water waste or leaks.
For Sacramento's best plumber, CONTACT Always Affordable Plumbing!
Service, quality, and affordability for our customers always comes first. Call today to schedule your appointment!
For our great plumbing tips and updates, FOLLOW US ON FACEBOOK!
CLICK HERE to learn why "expensive" doesn't always mean "best" when it comes to plumbing
Best Plumber Sacramento | Water Waste
Find out more about Always Affordable Plumbing (Lic. #1003782) by calling (916) 970-0099.