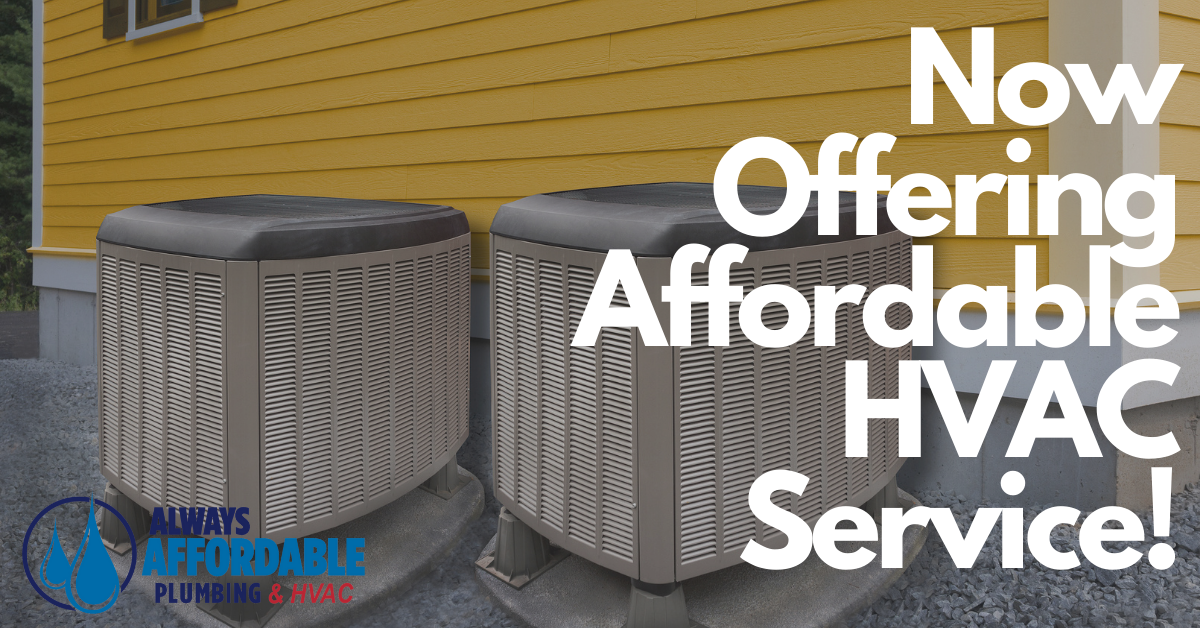 30 Apr

A/C Summer Tune Up! Beat the Heat!

Affordable HVAC Service | Best Sacramento HVAC
Always Affordable Plumbing Now Provides Affordable HVAC Service Too!
Always Affordable Plumbing has been providing Sacramento and Solano County with affordable plumbing services for years. We are proud to announce that we are now expanding our services to include HVAC! HVAC stands for "heating, ventilation, air conditioning". In other words, we help you keep your house warm in the winter, and cool in the summer.
Do I Need an AC Tune Up?
As we approach the summer months, it is important to make sure that your AC is ready to handle the work. As always, AAP wants to save you money on your plumbing and HVAC needs. One of the best ways to save money is to prevent issues. In fact, most people don't realize that your air conditioning unit should be serviced once a year. So, if you have not had your AC inspected or serviced yet this year, now is the time.
When Should I Do Annual Maintenance on My AC?
The best time to service your AC is in late Spring, before temperatures start to rise. Typically, the AC does not get much use through the winter. But you want to make sure that everything is ready to work and in good condition just before you will need it. With another expected hot Sacramento summer, NOW is the time to service your AC. There is nothing worse than your AC going on the fritz during one of our 110 degree days!
What Does an AC Tune Up Include?
An AC Tune Up, or annual AC maintenance, is designed to ensure your equipment is in good working order. An AC Tune Up should be performed by a licensed, professional HVAC technician from Always Affordable Plumbing and HVAC. Our technicians have the experience, training, and tools to ensure your AC is ready to keep you cool! Typically, annual AC maintenance includes:
thermostat calibration
inspection and tightening of all fittings and connections
ductwork inspection to check for damage or leaks
testing of blower
inspection of blower belt
inspection/replacement of air filter
testing operating pressures
inspect and tighten electrical system
clean condenser coil, remove debris
inspect fan
test for refrigerant leaks
Why Should I Get an AC Tune Up?
Performing annual AC maintenance with our AC Tune Up service is the easiest and most affordable way to ensure your AC is working properly. What you don't want to have happen is for your AC to fail when you need it most. Waiting for your AC system to stop working is not the way to figure out something was wrong with it. If our AC Tune Up inspection discovers a problem, we can make recommendations to repair or replace what is broken, and correct the problem. By scheduling this service before summer, you won't have to worry about being without cold air when temperatures rise! Instead, you will have peace of mind knowing that your equipment is working properly and efficiently.
Call Always Affordable Plumbing and HVAC Today!
Are you ready for summer? Then schedule your annual AC Tune Up service today, and beat the heat! Always Affordable Plumbing and HVAC is proud to deliver AC and heater service to Sacramento and Solano County. As always, we provide our communities with honest and affordable services for your home or business.  
Service, quality, and affordability for our customers always comes first. Call today to schedule your appointment!
For our great plumbing and HVAC tips and updates, FOLLOW US ON FACEBOOK!
CLICK HERE to learn about EASY WATER HEATER MAINTENANCE to save you money!
Find out more about Always Affordable Plumbing & HVAC (Lic. #1003782) by calling:
SACRAMENTO VALLEY: (916) 970-0188
SOLANO COUNTY: (707) 410-3182 
Affordable HVAC Service | Best Sacramento HVAC