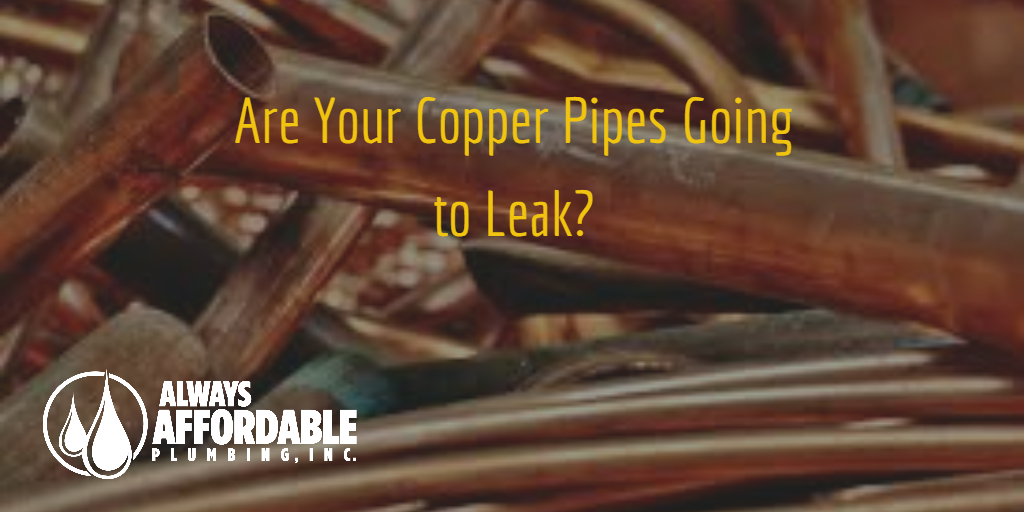 12 Oct

Should Folsom Residents Worry About Needing Copper Pipe Repair?
If You Live in Folsom, Should You Be Worried About Your Copper Pipes?
Affordable Folsom Plumber | Copper Pipe Repair Since this summer, more and more Folsom homes are reporting pinhole leaks in their copper pipe home plumbing. The issue has been so wide spread that the city is even testing water quality for possible contaminants. By early September there were 660 reported cases of copper pipe leaks in Folsom. Unfortunately, there does not seem to be an explanation available. Leaving many home owner's wondering…should they be worried about their copper pipes?
Does Folsom Know the Cause of Pinhole Leaks in Copper Pipes?
No, at this time, the City of Folsom does not know the exact cause of the pinhole leaks. Pinhole leaks occur when corrosive substances inside the pipe eat through to the outside of the pipe. Generally, this starts out as very small damage. However, it can quickly develop into major damage. Especially when multiple pinholes begin to happen. This leads to widespread water damage, and the need for copper pipe repair throughout your home. Ultimately, is seems like there is, or was, something in the water that caused damage to copper pipes in Folsom. According the the City of Folsom website, Folsom is working with consultants and water quality experts to try and determine what exactly has caused this terrible problem. Additionally, they are doing extensive water quality forensics to try and identify any possible corrosive elements causing the problem. Unfortunately, the complete report has been delayed due to COVID-19. Lab testing for pipe scale analysis has not been finished as of this time. According to preliminary water analysis and testing, there is nothing in Folsom's water supply that is out of the normal. In other words, Folsom's water quality meets stringent Federal and State water quality requirements. Additionally, Folsom claims that they follow similar procedures and chemicals for water treatment as other neighboring municipalities.
What is Folsom Doing About Preventing More Copper Pipe Repair and Leaks?
In addition to "fast-tracking" the process to bring in experts and consultants, Folsom did receive some initial recommendations from the consulting teams. Consultants advise Folsom to use orthophosphate in the water treatment process. Orthophosphate is a corrosion inhibitor for water leaving the treatment plant. According to the recommendation, orthophosphate may provide a protective coating on the inside of copper pipes, which would prevent the development of pinhole leaks. Folsom is moving forward with this recommendation.
Is Organophosphate Safe?
The last thing anyone wants is to trade one problem for another. Particularly if the new problem is related to the health and safety of you and your family. Of course, nobody wants the cost and inconvenience of copper pipe repair throughout their home. However, we also want to be sure that our drinking water is SAFE. The good news is that the EPA approves this chemical for public water systems, and it is "generally recognized as safe" by the FDA.
What Should I Do About My Copper Pipes?
The best thing you can do if you live in Folsom is schedule a whole home plumbing inspection with Always Affordable Plumbing. We can find leaks or potential problems before they become a major issue. Unfortunately, in this situation it is impossible to isolate potential damage to your copper pipes. In other words, if one area has pinhole leaks, it is likely that other areas have damage too. Always Affordable Plumbing will inspect all of your plumbing and pipes, and can make recommendations for copper pipe repair, re-piping, and even show you how to ensure that you have the cleanest, safest drinking water possible.
Call Your Affordable Folsom Plumber Today
Please call ALWAYS AFFORDABLE PLUMBING today to schedule an inspection. One of the worst things that can happen is to have a small leak that you are unaware of. A home plumbing inspection will also check other plumbing equipment for possible issues, leaks, or corrosion. This gives you the opportunity to repair or replace something before it causes a major inconvenience or problem.
Service, quality, and affordability for our customers always comes first. Call today to schedule your appointment!
For our great plumbing tips and updates, FOLLOW US ON FACEBOOK!
CLICK HERE to learn about EASY WATER HEATER MAINTENANCE to save you money!
Find out more about Always Affordable Plumbing (Lic. #1003782) by calling (916) 970-0099.
Copper Pipe Repair Folsom | Affordable Folsom Plumber