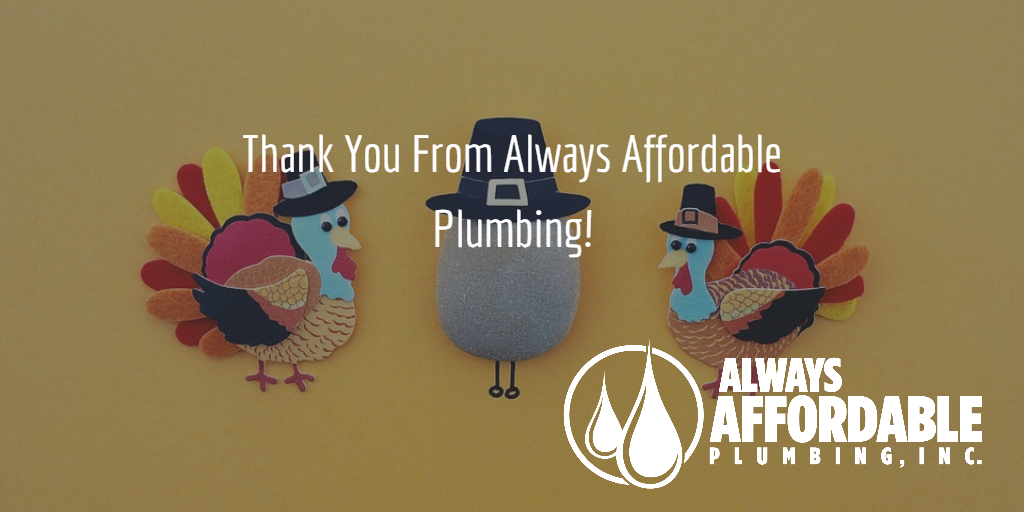 22 Nov

A Big Thanks from Your Sacramento Plumber

Sacramento Plumber | Always Affordable Plumbing
Always Affordable Plumbing Wishes All Our Customers a Happy Thanksgiving!
The Holidays are a wonderful time to enjoy family and festivities. For us at Always Affordable Plumbing, it is also a time to reflect. Thanksgiving signals not only the beginning of the busy holiday season, but it also reminds us to be grateful.
A Great Big Thank You!
AAP wants to take this moment to express our gratitude to all of our customers. THANK YOU! It has been a great year at Always Affordable Plumbing and it is because of our amazing residential and commercial customers that have trusted us to help them with their plumbing issues. We hope that in every service call we made that our principles of Service, Quality, and Affordability was evident. When we started this business years ago, we set out to improve the plumbing industry and most of all, to bring back integrity and affordability. Thank you to all of our customers for giving us that opportunity!
A Different Sacramento Plumber Experience
If you need a Sacramento plumber, call AAP. Whether you need Emergency plumbing services, a sewer line replaced, or a leaky faucet fixed, Always Affordable Plumbing is here for you.
Service, quality, and affordability for our customers always comes first. Call today to schedule your appointment!
Read more about how Always Affordable Plumbing is setting a new standard in plumbing
Sacramento Plumber | Always Affordable Plumbing