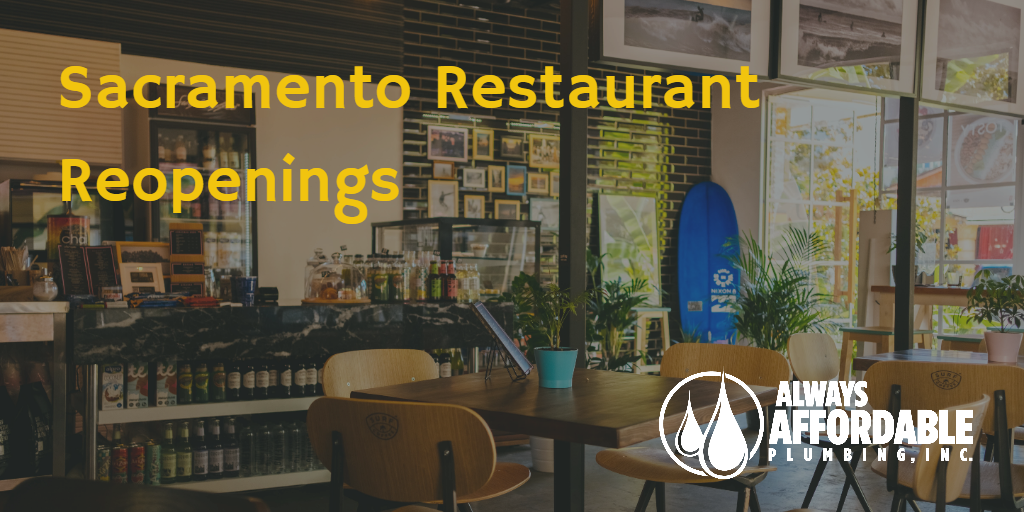 26 May

Is Your Restaurant Ready for Phase 2 Reopening?
Follow these important steps to make sure your restaurant is ready for Sacramento Phase 2 reopening!
Phase 2 Reopening Restaurant Guidelines | Coronavirus Sacramento
It has been over 2 months since our great city of Sacramento was effectively shut down due to Covid-19. Finally, we are starting to see the reopening of not just "essential" businesses, but of the businesses that are the very fabric of our communities.
Many of us are most excited for the reopening of our favorite local restaurants. Sacramento has the reputation of being the "farm-to-fork" capital, and features countless amazing, independent restaurants and eateries that rival much larger metropolitan areas in quality and variety.
If you own a restaurant in the Sacramento Valley, or are a restaurant manager, be sure you are fully prepared for your opportunity to reopen.
Sacramento County Restaurant Reopening Guidelines
On May 21, 2020, Gov. Newsom accelerated and modified his Phase 2 Reopening Plan to allow for more businesses to open, with certain guidelines. When it comes to restaurants, there are some steps to take to make sure you are ready to reopen while staying compliant:
Guidelines for Restaurant Reopening Sacramento*:
1. Tables must be spaced at least 6′ apart
2. Dining-in is for household groups only
3. High contact surfaces must be cleaned/disinfected frequently
4. Limit cash transactions
5. Staff must wear face masks
6. Provide disposable menus
Tips for Reopening Your Restaurant in Sacramento
As you can see, there is a lot of ambiguity in these guidelines. It is up to restaurant management and owners to implement best practices to reopen safely.
Remember, the goal here is to provide a safe dining experience, while also limiting the chance of exposure of COVID-19 to your staff and patrons.
Additional steps restaurants should be taking to reopen safely include:
perform a risk assessment and site specific protection plan
educate employees on how to limit the spread of COVID-19
educate employees on proper use of personal protective equipment, such as masks and gloves
educate staff on how to self-screen for symptoms, and implement protocol to stay home when symptoms are present
implement disinfecting protocols that include method and frequency
redesign workspace and seating to accommodate social distancing
Get Ahead of the Curve by Being Prepared
As things Phase 2 reopening happens, there is no doubt that regulations will tighten and change. The best thing you can do to avoid reopening issues is to aggressively implement safety protocols in your restaurant now, not wait for more "guidelines".
Always Affordable Plumbing recommends this begins with staff education, as they are the frontline of safety for your restaurant and patrons.
From there, take it upon yourself to become the cleanest, most disinfected restaurant in Sacramento! There are professional cleaning companies that can provide reopening-disinfection, as well as ongoing deep cleaning. They can also train your staff on proper cleaning technique.
Once your staff is trained-up, and your restaurant is clean, it is time to prepare the space for the new look of post-Coronavirus dining service.
Some important reopening considerations include:
How can you maximize seating while maintaining safe social distancing?
Do you have areas you can expand seating to, indoors and/or outdoors?
Will your city allow you to utilize public space, such as sidewalks and frontage?
Has your kitchen equipment been properly maintained during COVID-19 shutdown, and has it been properly prepared to get back to work?
Make Sure Your Plumbing is Ready to Work!
While this Sacramento Plumber can't speak to maintenance on kitchen equipment like stoves and burners, what we can speak on is the importance of preparing your plumbing!
If your restaurant has been closed for weeks or months, or even just had minimal use with take-out only service, then it is likely your commercial plumbing needs a little help to get ready for a full workload.
We cannot stress enough the importance of a plumbing inspection as soon as possible if you are planning on reopening. Your commercial pipes and plumbing equipment have been stagnant for too long, and can face serious failure when put back under full load.
Always Affordable Plumbing can help your restaurant reopen efficiently, and avoid a hiccup or shutdown from clogged, slow, or leaking plumbing equipment. CALL US TODAY to schedule a complete commercial plumbing inspection that will ensure a smooth reopening for your restaurant.
Schedule your whole-business plumbing inspection from Always Affordable Plumbing today! Call (916) 970-0099.
For the most affordable plumbing in Sacramento, CONTACT Always Affordable Plumbing!
Service, quality, and affordability for our customers always comes first. Call today to schedule your appointment!
For our great plumbing tips and updates, FOLLOW US ON FACEBOOK!
CLICK HERE to learn why "expensive" doesn't always mean "best" when it comes to plumbing
Find out more about Always Affordable Plumbing (Lic. #1003782) by calling (916) 970-0099.
Phase 2 Reopening Restaurant Guidelines | Coronavirus Sacramento