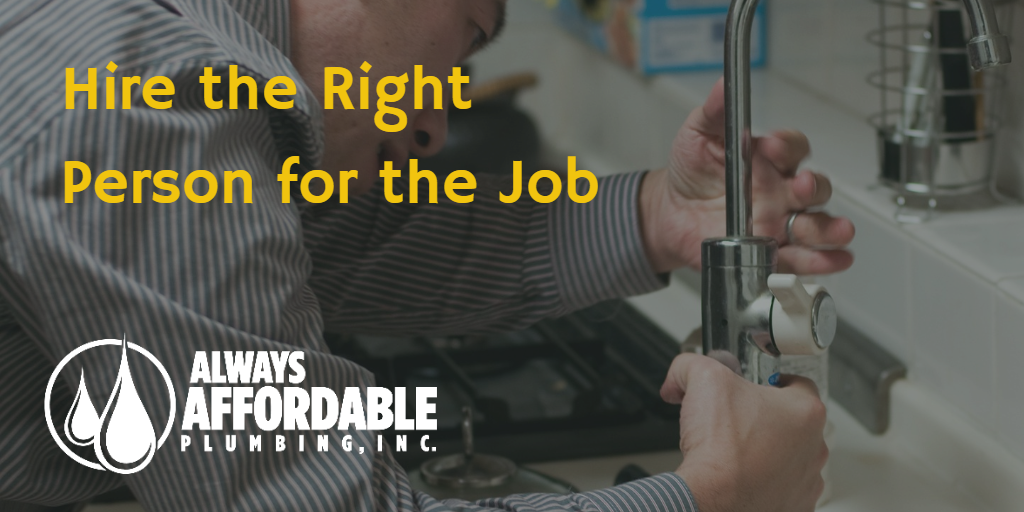 27 Aug

Can Anyone Be a Plumber? | Licensed Sacramento Plumber
Always Affordable Plumbing in Sacramento is Licensed—But Not Everybody Is
Affordable Sacramento Plumber | Licensed Sacramento Plumber
It's back to school time, with kids everywhere cracking the books and sharpening their pencils. As a result, students may begin thinking more about what they want to be when they grow up. For any young plunger fans considering a career in plumbing, Always Affordable Plumbing is here to say: Study hard!
Not just anyone can be a plumbing contractor. The state of California issues licenses only to people who meet every item on a list of strict requirements. It seems like anyone who can unclog a drain wants to the title, but there is much more to the job.
Note that a license is necessary only for plumbers responsible for contracting jobs valued at $500 or more.
Keep the Water Moving
In California, licensed plumbers are called "plumbing contractors." Firstly, the state defines the job as providing a means for a safe water supply. Secondly, that supply must be large enough and hot enough to serve its intended purpose. (In other words, that means showering, washes dishes, etc.) Thirdly, plumbing contractors ensure the effective and safe disposal of liquid waste.
Of course, the job touches on more than just water. California regulations note that plumbing contractors may work with gas appliances and connections. In addition to water pipes, plumbers encounter waste-disposal systems, gas earthquake valves, and solar heaters.
Because water access, waste removal, and everything in between is so important, plumbing contractors have a huge responsibility. It seems like many people think of plumbers only when it comes time to get help for an emergency. Certainly, this is a large part of what plumbers do! Perhaps more importantly, however, plumbers perform installations and maintenance.
If systems are installed well and kept functioning properly, the work minimizes the risk of future problems. Always Affordable Plumbing takes pride in ensuring your equipment is operating properly.
This is Only a Test … Or Two
In order to obtain a license, hopeful plumbers must first gain four years of practical experience. This can be from a range of possibilities. For example, you may have worked through an apprenticeship or handled construction as an owner-builder.
Next, you must get approval from a governing board to take two exams. One is a business and law exam. The other is an exam for the specific plumbing trade. The state of California must also approve a request to sit for these tests.
The California Plumbing Contractor exam is a 2 1/2 hour test. Topics include safety, plumbing system repair, selecting materials, and planning projects. Only applicants who achieve a minimum score of 72 percent pass.
Who's Watching Your Pipes?
Can anyone wield a plunger? Technically, yes. Furthermore, can anyone with a drain snake open up shop and be on call for emergencies? Again, that's technically a yes. But does everyone staring down the business end of a plugged toilet know the intimate ins and outs of a home's entire system of pipes? Beyond that, do they know how everything is connected internally? Or how a water softener and solar heater impact the second-floor bathtub?
Probably not. Plumbing contractors may have to be licensed for their work in installations and construction, but that license also indicates something more. It shows that they are committed to fixing problems with long-term solutions in mind.
Your Licensed Sacramento Plumber
For an experienced, fully licensed Sacramento plumber, CONTACT Always Affordable Plumbing!
Service, quality, and affordability for our customers always comes first. Call today to schedule your appointment!
For our great plumbing tips and updates, FOLLOW US ON FACEBOOK!
CLICK HERE to learn why "expensive" doesn't always mean "best" when it comes to plumbing
Affordable Sacramento Plumber | Licensed Sacramento Plumber
Find out more about Always Affordable Plumbing (Lic. #1003782) by calling (916) 970-0099.