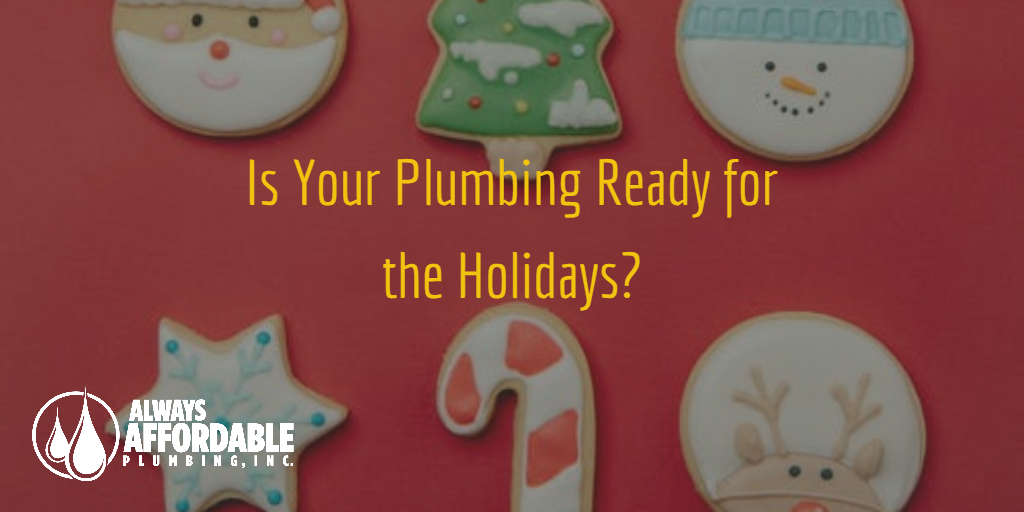 12 Nov

Prepare Your Pipes for the Holidays | Drain Cleaning

Best Drain Cleaning Solano | Always Affordable Plumbing Solano Sacramento
Avoid a Holiday Headache and Clean Your Pipes NOW
One of the most common emergency calls we get is for a backed up main drain. This is particularly common during the Holiday season, which is right around the corner! The holidays typically feature kids coming back home from college, friends visiting, and big family get togethers. Don't get stuck with a backed up kitchen sink or clogged toilet this year, schedule your drain cleaning service today!
Why Do My Drains Clog?
Throughout the year, we put our plumbing through a lot. We rinse things off in the kitchen sink that should not be going down the drain, such as fats, oils, and grease (FOG). We flush things down the toilet that shouldn't be flushed, such as paper towels and even "flushable" wipes (get the truth about flushable wipes here). Over time this leads to build up inside your drain pipes. FOG lines the inside of your pipes and then hardens. Small food bits or paper products get snagged in the FOG build up. With the inside of the pipe becoming more narrow from FOG, even a small amount of debris can easily get snagged and build up into a major pipe block. Sometimes, even some minor root intrusion will contribute to creating a pipe block.
Think of it Like Heart Disease of Your Plumbing
This all may start sounding really familiar to you, especially if your doctor has ever had to talk to you about your high blood pressure or high cholesterol. Coronary artery disease, and atherosclerosis, is the narrowing of our arteries over time due to the accumulation of plaque. When our arteries become more narrow, blood flow is restricted. As most of us know, if left untreated, this can lead to a heart attack. This is the same thing that is going on with our plumbing. Gunk builds up inside our pipes and it restricts the flow of water. Of course, more than just water is going through our pipes.  This makes it even more likely to have a major drain clog.
Why Does My Drain Problem Get Worse Around the Holiday
For a lot of people, the holidays put extra strain on their plumbing. More people in the house, more big meals. All of this leads to more use of the plumbing. More things washing down the sink that shouldn't be washing down the sink. Increased toilet use. More of everything! If your pipes already have build up in them from years of normal use, then this extra strain might just be the thing that causes your "plumbing heart attack" situation. And while it is NEVER convenient to have a clogged main drain, it is particularly inconvenient when you are trying to enjoy Thanksgiving or other holiday celebrations. On top of the extra plumbing demand, holiday season is normally wet weather season. Leaves are coming off the trees, and we typically see some rain. These are two things that can contribute to drain clogs in and around your house (read about wet weather plumbing issues here).
But My Pipes Are Fine!
You might think that your pipes are fine, but rarely is that the case. Unless your house is a new build, then it is very likely that your pipes have some accumulation of FOG build up inside of them, at the very least. Many older homes (20+ years) not only have FOG build up, but also minor root intrusion in the main drain line. This may not cause an issue with every day use. However, once there is additional demand on your plumbing, the nasty problem might finally show up. Some signs that you already have a main drain issue include:
your kitchen sink becomes slow to drain when you are washing dishes
the kitchen sink backs up every couple of months
your toilet does not flush completely
you find dirty water backed up into your tub
Many of these nuisance problems self resolve or just need a little plunger help. However, they are a big red flag that your pipes have some kind of blockage in them down the line.
How to Prevent a Major Drain Clog Issue
The best medicine is prevention. So, instead of waiting to see if you can get through the holidays without a plumbing issue, maybe this is the year that you do some plumbing prevention. Call TODAY to schedule a drain cleaning service from Always Affordable Plumbing, so that we can make sure your pipes are ready for the holiday season. Our professional, licensed plumbers can inspect your lines and perform hydro jetting drain cleaning service. Hydro jetting is the single best way to properly clean the inside of your drain pipes of years of FOG accumulation and build up. Hydro jetting can also remove minor root intrusion and small blocks. With hydro jetting, your pipes will be restored to the best working condition that they can be!
LEARN MORE ABOUT HYDRO JETTING SERVICE HERE
We are already booking up fast leading up to the holidays, so be sure to call and schedule your drain cleaning service NOW.
Service, quality, and affordability for our customers always comes first. Call today to schedule your appointment!
For our great plumbing tips and updates, FOLLOW US ON FACEBOOK!
CLICK HERE to learn about EASY WATER HEATER MAINTENANCE to save you money!
Find out more about Always Affordable Plumbing (Lic. #1003782) by calling:
SACRAMENTO VALLEY: (916) 970-0188
SOLANO COUNTY: (707) 410-3182 
Best Drain Cleaning Solano | Always Affordable Plumbing Solano Sacramento