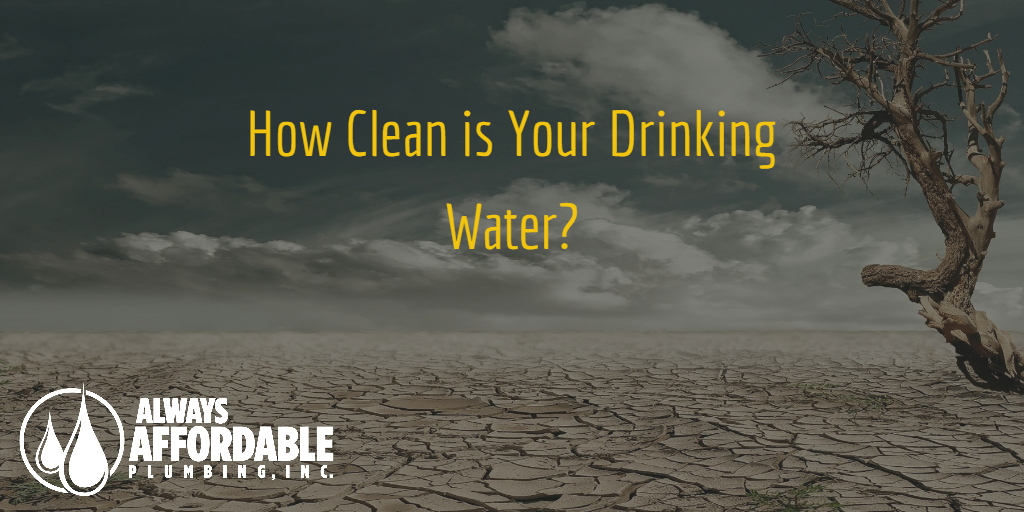 15 Oct

California Drought Threatens Water Quality

Reverse Osmosis Water Filter | Always Affordable Plumbing Solano
California's On Going Drought Conditions Can Be Bad For Drinking Water
The severe drought conditions that California is facing threatens farming, water quality, water supply, and even electricity generation. Because of years of drought conditions, we continue to see worse and worse fire seasons along with shrinking reservoirs. Our state has been facing severe drought since 2012, with seemingly progressively worse conditions. In fact, this summer featured the worst drought conditions in California in 126 years of record keeping! An interesting consideration when it comes to severe drought conditions is the impact that it may have on our drinking water.
Study Shows CA Groundwater Threatened by Drought
A 30 year study on groundwater contamination recently released their findings. Researchers have always been concerned with drought conditions drying out wells and groundwater sources. However, this is the first long term study that actually focused on water contamination related to drought. According to the study,
"Aquifers are pumped more frequently during times of water scarcity from drought. As a result, shallow groundwater — often contaminated by agricultural runoff in areas such as the Central Valley — is pushed down into the deepest parts of aquifers, the areas commonly tapped for public drinking-water supply"
Read more at: https://www.sacbee.com/news/california/water-and-drought/article253961508.html#storylink=cpy
Surprisingly, the study states that about 85% of California residents rely on groundwater for a portion of their water supply. The biggest contaminant detected in the study was nitrate. Nitrates are used in fertilizer, and have been found to cause various forms of cancer and can be harmful to babies.
How to Keep Your Water Clean
Regardless of your water supply, the facts continue to point to the need for every household to take extra measures to ensure the cleanest drinking water. Municipalities provide large scale decontamination, however, more and more research shows that Federal standards are not strict enough.
Here in California, we must be mindful about groundwater contamination from agriculture, especially nitrates. Harsh drought conditions can increase groundwater contamination.
The best way to remove nitrates from your drinking water is with an under-the-sink reverse osmosis (RO) system. RO is one of the most effective home filtration systems available. This is due to its ability to remove ions, such as nitrates. Additionally, an RO filter can remove bacteria and viruses, parasites, fluoride, and many other contaminants that are not removed by a carbon filter alone. It is estimated that a RO filtration system can filter out contaminants at a level 500 X's smaller than NSF Class I carbon filter! So while a carbon filter is a great option for removing chlorine and other basic organic chemicals from your water, a RO system will truly take your water quality to a different level.
Improve Your Water Quality Today
If you are ready to improve the quality of your drinking water, call AAP Solano and Sacramento today! We will perform a FREE water test on the water from your tap to analyze exactly what you are drinking. From there, we can explain home water filtration options. AAP has partnered with HALO Water Systems to provide Solano and Sacramento with the best home water filtration options! This includes everything from reverse osmosis systems to multi-stage whole home filter systems.
Service, quality, and affordability for our customers always comes first. Call today to schedule your appointment!
For our great plumbing tips and updates, FOLLOW US ON FACEBOOK!
CLICK HERE to learn about EASY WATER HEATER MAINTENANCE to save you money!
Find out more about Always Affordable Plumbing (Lic. #1003782) by calling:
SACRAMENTO VALLEY: (916) 970-0188
SOLANO COUNTY: (707) 410-3182 
Reverse Osmosis Water Filter | Always Affordable Plumbing Solano