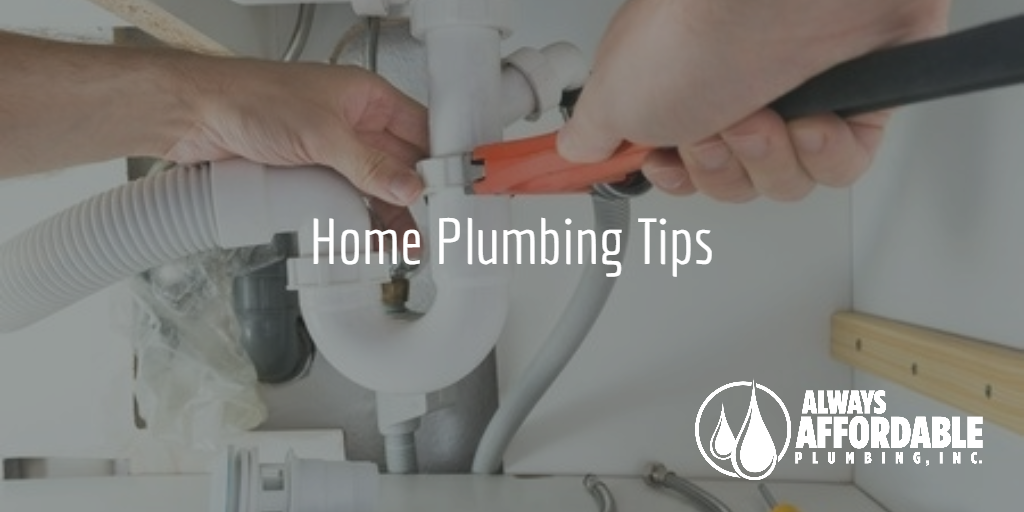 24 Jan

Always Affordable Plumbing Sacramento: Plumbing Tips

Affordable Plumbing Sacramento | Always Affordable Plumbing Tips
Affordable Plumbing Starts with Easy Prevention Tips
Always Affordable Plumbing works hard to make sure Sacramento receives the most honest and affordable plumbing services around. One of the best ways to keep plumbing repairs affordable, is to prevent major issues. That is why we provide articles and information to help you guys out! We hope you never need plumbing repairs, but if you do, we hope that you will call on Always Affordable Plumbing!
Always Affordable Plumbing understands how inconvenient a plumbing issue can be, but also understands that fixing the problem quickly AND correctly can prevent thousands of dollars in other repairs or damage.
With the Winter season still going strong (well, strong for us Northern Cali folks), make sure you read about how you can prevent frozen pipes RIGHT HERE and HERE!
---
---
In addition to preventing cold weather damage to your pipes, there are some simple things you can do to prevent other common plumbing issues in your house. Keep reading to learn about Always Affordable Plumbing's Tips!
Affordable Plumbing TIP 1
A little bit of basic maintenance will go a looooong way to preventing repairs and clogged drains! For example, did you know that your water heater should be drained once a year?? Most people don't realize that there are simple things you can do to keep your water heater in great shape. Draining your tank doesn't cost you anything, but can help prevent having to buy a new water heater. CONTACT AAP TODAY to learn more about water heater maintenance, or for a FREE home plumbing inspection!!
Affordable Plumbing TIP 2
Find your home water shut off valve!! If a pipe were to burst, the last thing you want is to have extensive water damage because you didn't know how to shut off your water. Typically located near the street, make sure you can find it and access it. Once you find it, make sure you can easily turn the valve on and off. Keep debris and vegetation clear from the area so that it is always easy to get to.
Affordable Plumbing TIP 3
Inspect your washing machine hoses. Some older washing machines may still have old rubber hoses on them, which are prone to cracking and bursting. Replacement lines with high quality steel braid can typically be found for less than $15, and take just a few minutes to install.
Affordable Plumbing TIP 4
Don't dump grease down the sink! A lot of people treat their kitchen sink like a garbage for food waste. Scraps after dinner? Down the disposal! The problem really occurs when people put grease, fats, and cooking oils down the drain…even if it is still in liquid form, it can coat the pipes and create a build up over time. Eventually your pipe will get clogged up or worse. Simply make sure to dispose of grease, fats, and oils properly, and keep your pipes clean by pouring a gallon of boiling water down the drain every year (carefully!!).
Affordable Plumbing TIP 5
Wasting water on a leaky toilet? If it constantly sounds like your toilet has to refill, you might have a slow leak inside the tank. These components can wear down pretty easily, but fortunately they are relatively inexpensive and easy to replace yourself. Certainly much cheaper than wasting thousands of gallons of water! (a leaky toilet can waste the equivalent of a swimming pool's worth of water!!!)
Here is an old plumber's trick for testing for a toilet leak: before going to bed, drop some food dye into the toilet tank (not the bowl). Make sure not to flush or use the toilet that night. The next morning, if the water in the bowl matches the food dye you put in the tank, you've got a leak!
Need help swapping out your toilet tank parts? If you just don't think you can do it yourself, give AAP a call!
Affordable Plumbing TIP 6
Keep your bathroom drains clear. Bathroom sinks, showers, and tubs are notorious for getting clogged up with hair and soap residue. If your drain is draining slowly, chances are you can fix it pretty quick by clearing hair from the drain. There are some pretty hardcore chemical agents you can pour down the drain which will supposedly dissolve hair and build up, and these might be effective. However, a lot of times the problem is just that hair has tangled up around the drain plug. For less than $10, you can buy a hair clog removal tool, which is simple to use and will pull any hair clogs right out! Once you get the hair out, be sure to throw it in the trash, and test your drain. It should be flowing much better!
Affordable Plumbing Sacramento
Hopefully this article gave you a few easy things that you can do to keep your home plumbing in tip-top shape! Always Affordable Plumbing understands that the last thing any homeowner wants is the sudden expense of plumbing repairs. This is why we are committed to helping you out as much as possible to prevent problems. Even if something does go wrong, you can trust that Always Affordable Plumbing provides the most honest and affordable plumbing services in the Sacramento area. Don't forget that we offer a FREE, NO OBLIGATION HOME PLUMBING INSPECTION…this free service let's you know if there are any potential issues to address or be on the look out for, as well as if there are any simple things you can do to prevent future issues. CALL TODAY!
A Different Sacramento Plumber Experience
If you need a Sacramento plumber, call AAP. Whether you need a FREE Home Plumbing Inspection, emergency 24-hour plumbing services, a sewer line replaced, or have an issue with a frozen pipe, Always Affordable Plumbing is here for you. Service, quality, and affordability for our customers always comes first. Call today to schedule your appointment!
Read more about how Always Affordable Plumbing is setting a new standard in plumbing
Affordable Plumbing Sacramento | Always Affordable Plumbing