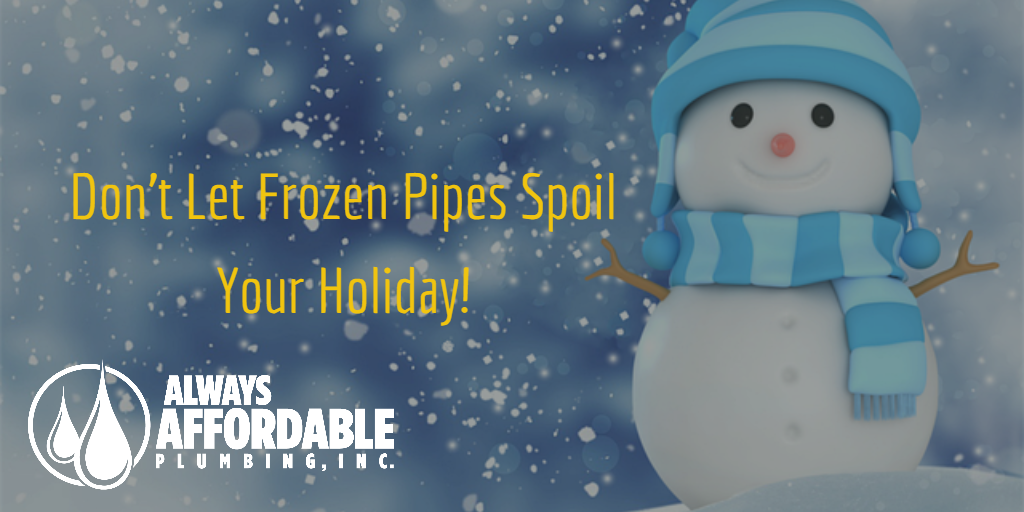 21 Dec

Frozen Pipes Can Cause Major Damage | Frozen Pipe Repair

Frozen Pipe Repair Sacramento | Always Affordable Plumbing
When Temperatures Drop, Your Pipes Could Break!
Here is How to Prevent an Expensive Repair…
It may not be a wet winter so far, but it has been a cold one. This same time last year, we had ZERO nights at or below freezing. This year, we have already had 4!
When temperatures drop, it is possible that your pipes can break. Frozen pipe repair can be a major hassle. Here are some simple tips to help prevent that from happening.
What Had Happen Was…
When you go to bed at night, your home plumbing pipes still have some standing water in them. If temperatures get low enough, that water can freeze. When frozen, water expands, and without anywhere to go, that frozen water can actually crack or burst your pipe. According to home insurance reports, water damage from a burst pipe is one of the most common claims. It is also a pricey one, with an average bill of $5,000!
According to home insurance reports, water damage from a burst pipe is one of the most common claims.
How to Identify a Frozen Pipe
The obvious sign will be massive flooding. However, that typically occurs AFTER a frozen pipe has thawed. Here are some telltale signs that you might have a frozen pipe:
Slow faucet (trickle), or no flow at all
Toilet slow to refill or won't refill
Shut Off Your Water!
If there has been freezing temperatures, and your water flow is slow or non-existent, the first thing you should do is turn off the main water supply to the house. This is the best and easiest way to prevent extensive water damage if you in fact have a frozen pipe, and it bursts.
Don't know where your main shut-off is?? Call Always Affordable Plumbing! We will show you where it is, and how to turn it off. We will also do a free inspection on it to make sure it has a strong working valve. While we are there, we can even perform our FREE HOME PLUMBING inspection to make sure everything else is in good condition too!
…click here for part 2 on frozen pipes…how to thaw a frozen pipe…
A Different Sacramento Plumber Experience
If you need a Sacramento plumber, call AAP. Whether you need a FREE Home Plumbing Inspection, emergency 24-hour plumbing services, a sewer line replaced, or have an issue with a frozen pipe, Always Affordable Plumbing is here for you. Service, quality, and affordability for our customers always comes first. Call today to schedule your appointment!
Read more about how Always Affordable Plumbing is setting a new standard in plumbing
Frozen Pipe Repair Sacramento | Always Affordable Plumbing