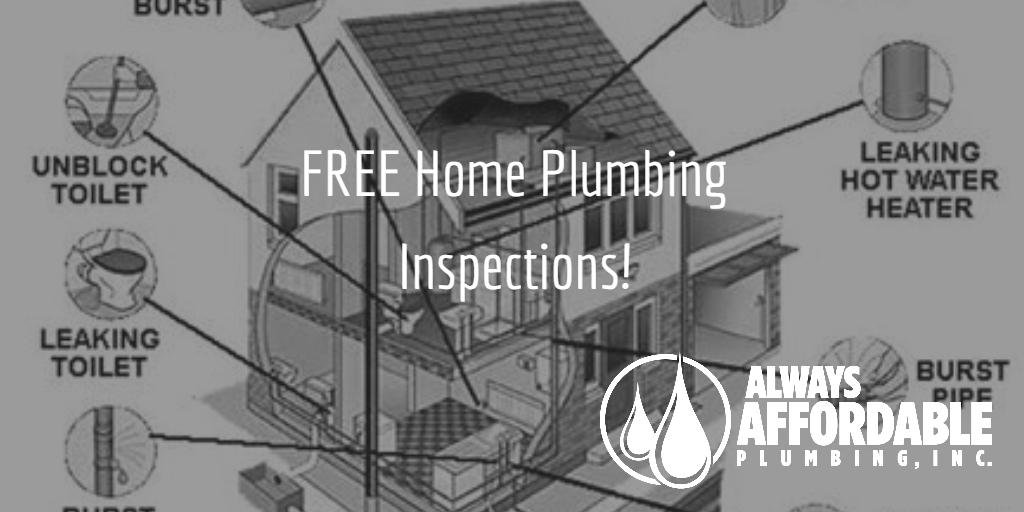 14 May

FREE home plumbing inspection can save you money!

Always Affordable Plumbing Tips | Home Plumbing Inspection
Want to Prevent Expensive Home Plumbing Repairs??
Get a "no obligation", FREE home plumbing inspection from Always Affordable Plumbing Sacramento!
Major home plumbing repairs can be expensive. They also typically come at the worst possible time! One way to stay ahead of expensive plumbing repairs is to know if you have any potential issues, so you can fix them before they become big problems.
Fix Before Broken
One of the most difficult things about dealing with home plumbing repairs is that most home owners don't know the early warning signs of looming problems. A lot of these early warning signs need a professional set of eyes in order to identify.
This is where Always Affordable Plumbing Sacramento can help. With our no cost, no obligation home plumbing inspection, you can learn about the overall health of your plumbing and pipes.
Knowledge is Money
Our home plumbing inspection does a couple things for you:
1. It identifies any weaknesses or potential issues in your plumbing system
2. It allows you to anticipate and budget for any necessary repairs or upgrades
For example, our home plumbing inspection may identify that your water heater is on its last legs. We can provide you with replacement options as well as a general timeline for when you may need to replace it. Additionally, there may be some basic, and more affordable maintenance that can be done to help extend the life of the water heater.
Bottom line is that with information, you will can make an informed decision that best suits your needs and your wallet, before you are stuck with an emergency repair.
FREE Home Plumbing Inspection Helps All
The Always Affordable Plumbing Home Plumbing Inspection can help out just about everyone! And it doesn't get more affordable than FREE!
New homeowners
People looking to sell their home
Realtors looking to add value to their listing
Realtors looking to protect their buyer
Property managers or investors
If you need a Sacramento plumber, call AAP. Whether you need a FREE Home Plumbing Inspection, emergency 24-hour plumbing services, a sewer line replaced, or have an issue with slow drains, Always Affordable Plumbing is here for you. Service, quality, and affordability for our customers always comes first. Call today to schedule your appointment!
Learn some of our best affordable plumbing tips to PREVENT expensive plumbing repairs!!
Affordable Plumbing Sacramento | Home Plumbing Inspection