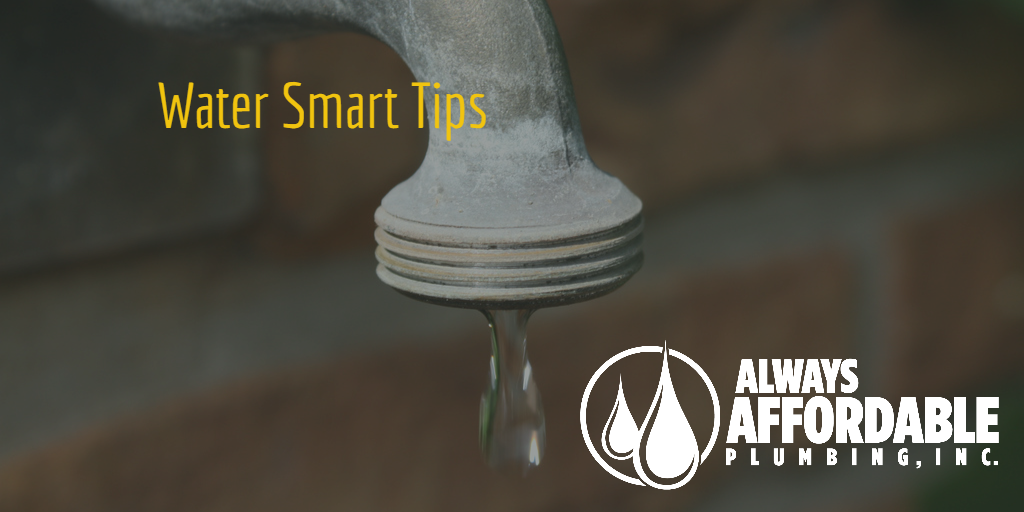 12 Jun

Save Water, Save Money | AFFORDABLE PLUMBING SACRAMENTO

Always Affordable Plumbing Tips | Save Water Sacramento
With Summer Here, Save Water to Save Money!
Summer usually means a little more demand on your home plumbing system. This is typically because kids are home from school, family and friends are visiting, and maybe you just like hosting fun summer get togethers! With summer, you may find water demand increasing as well. Saving water to save money is not only good on your wallet, it is good on the environment. Help us save water Sacramento! Here are some of our Always Affordable Plumbing Tips to help you "Save Water to Save Money".
Don't Let Leaks Sink You
With beautiful, dry, warm weather, summer is a great time to check for leaks. You should inspect for leaks inside and outside of your home. Important places to check for leaks include:
dripping faucets
running toilets
leaking hose bibs
broken sprinklers and irrigation pipes
pool cracks
A leak of 1 drip per second can waste up to 1,661 gallons of water in a year!!
Easy Whole House Leak Test
Aside being able to see an obvious leak, you may have a leak somewhere unnoticed. Here is an easy way to test if you have a hidden water leak:
pick a time when nobody is home, and no water is going to be used (15 mins is fine, but an hour is better)
go to your water meter and write down the number
leave (or simply don't use water for the next hour or so)
check your water meter and compare the original number to the new number
Ideally, if there was no water being used during that time, the numbers should be the same. If there is a change, you may have a leak somewhere. A hidden leak is not only a waste of water and money, but it can be causing damage to your home or property. Call Always Affordable Plumbing to help you find that hidden leak!
Other Ways to Save Water Sacramento
Aside from fixing any leaks that are wasting your water and your money, there are simple things you can do to help save water.
Do you know about Water Wise Rebates in the City of Sacramento?? Check them out HERE
Get up to $1500 to low water landscaping!!
Save 4 gallons a minute just by turning off the faucet while you brush your teeth
Upgrade to Energy Star appliances
Wash your car at a car wash that recycles the water
Follow your water district's watering schedule
lather your hands with the water off
If you need a Sacramento plumber, call AAP. Whether you need a FREE Home Plumbing Inspection, emergency 24-hour plumbing services, leak detection, or have an issue with slow drains, Always Affordable Plumbing is here for you. Service, quality, and affordability for our customers always comes first. Call today to schedule your appointment!
Learn some of our best affordable plumbing tips to PREVENT expensive plumbing repairs!!
Affordable Plumbing Sacramento | Save Water Sacramento