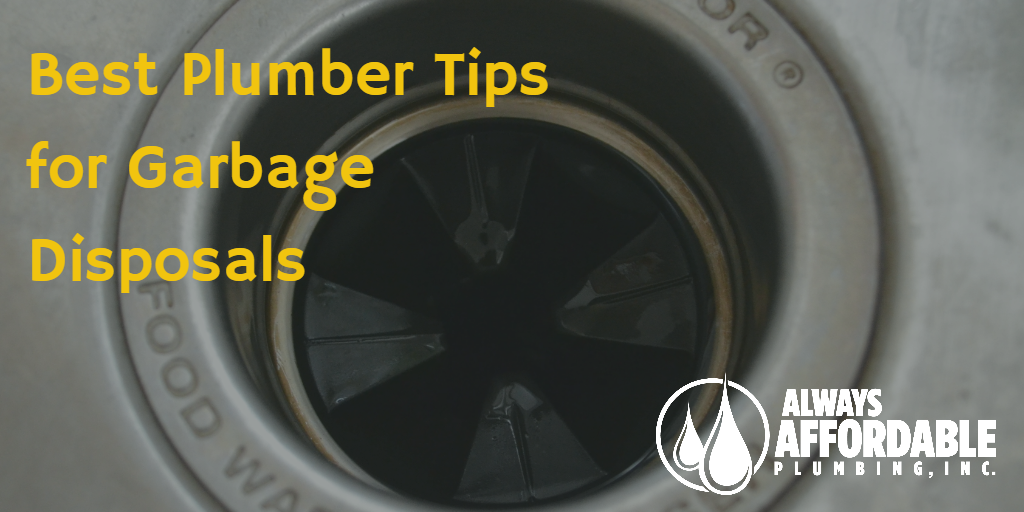 21 Jan

Best Plumber Tips: Common Garbage Disposal Problems, Part 1
Always Affordable Plumbing Spells Out What Can Go Wrong Below Your Sink
Best Plumber Sacramento | Garbage Disposal Problems
It can be so satisfying to dump something in the sink, flip a switch, and watch as your garbage disposal gets to work. On the other hand, it can be incredibly frustrating to flip that switch and … nothing happens.
As emergency plumbers in Sacramento, the Always Affordable Plumbing team often hears from people with disposal issues. This is a year-round problem, but it certainly happens more often during—and after—the holiday season. That is to say, garbage disposals tend to handle more and different types of food when people throw more parties! In January and February, you may start thinking about how all of that heavy food wasn't great for you.
This is also the time to be thinking about your garbage disposal.
Keep Your Disposal on a Healthy Diet
From big family dinners to work celebrations to reunions, winter is the time for sharing home-cooked food and fancy dishes alike. In other words, this is cold-weather comfort food. Unfortunately, many meals require elaborate preparation and create a lot of waste, some of which can be unfamiliar to home cooks. Think thick gravy, poultry bones, and starchy vegetables..
You may enjoy the delicious dinners. Meanwhile, your garbage disposal could be feeling less than fantastic. Know the signs: Maybe it's a horrible sound coming from the sink when you flip the switch. Maybe there's a particularly bad smell. Or maybe nothing—literally nothing—is going on.
Here are two common problems, as well as what might be causing them.
An Unfamiliar Grinding Noise
Every garbage disposal makes a distinct noise when it's working properly. Over time, you have probably gotten used to the sound of your own appliances. So when something sounds bad, you may be able to hear it as soon as you turn your disposal on.
You should hear an efficient whir punctuated by the sound of food chunks getting chopped up. If, instead, it sounds like a rattling cough or like a bag of gravel throwing up, you've got a problem. There is likely something un-blendable bouncing around in the chamber. It could be a piece of silverware that slipped past a well-meaning dishwashing helper. On the other hand, it could be a turkey bone you tossed in with some other food.
Some people choose to unplug their disposals and hunt around for the culprit themselves. However, it is important to remember that the disposal's blades are still sharp, even if they're not whirring. Also, keep in mind that whatever object was pinging around may have bent or broken, creating a jagged edge. It is also possible for bits and pieces to get wedged under moving parts and be difficult-to-impossible to remove.
The Sound of Silence
As a result of stuck objects or damage, a garbage disposal may stop working entirely. You can flip the switch all you want, but nothing happens. Before you call us, be sure to check the power for your disposal unit. Did you unplug it and forget to plug it back in? Don't be embarrassed. It happens.
If, however, you never unplugged your disposal, and it's not turning on, still don't despair. Perhaps some rummaging below the sink knocked the plug loose from the outlet? A quick plug-in may be all you need to get back into business.
If you see any frayed wiring or similar problems, be sure to call a professional. Electricity and water don't mix. That is to say, they mix very well—with dangerous results.
There may be no obvious problem at all. Your garbage disposal could have petered out, busted, or otherwise failed. Call a professional plumber to help install a new one, and enjoy peace of mind.
But Wait, There's More
For Part Two on common garbage disposal issues CLICK HERE! No matter the issue, a member of the Always Affordable Plumbing team can inspect the appliance and help figure out a solution. Call us at (916) 970-0099!
For the most affordable plumbing in Sacramento, CONTACT Always Affordable Plumbing!
Service, quality, and affordability for our customers always comes first. Call today to schedule your appointment!
For our great plumbing tips and updates, FOLLOW US ON FACEBOOK!
CLICK HERE to learn why "expensive" doesn't always mean "best" when it comes to plumbing
Find out more about Always Affordable Plumbing (Lic. #1003782) by calling (916) 970-0099.
Best Plumber Sacramento | Garbage Disposal Problems