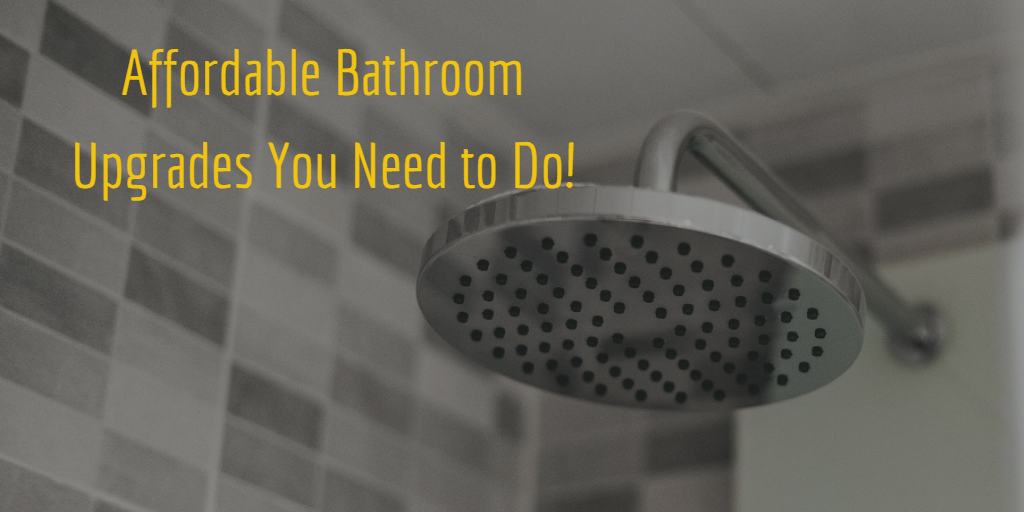 09 Aug

Top 3 Simple Bathroom Upgrades

Best Sacramento Plumber Bathroom Tips | Always Affordable Plumbing Sacramento
Some Simple Updates to Your Bathroom Can Really Upgrade Your Home
The bathroom is an important part of a home. It is the space we use to prepare ourselves for the day. It is where we make ourselves look and feel our best. Get cleaned up and ready to go. Your bathroom is worthy of some simple updates that can improve the experience. Additionally, these simple updates can actually add value to your home if you decide to sell. Below are our Best Sacramento Plumber Tips for the Top 3 Simple Bathroom Upgrades to make, that won't break the bank!
New Toilet
Unless your home is newer, or recently remodeled, it can probably use a new toilet. Older toilets are often really low to the ground, have hard water stains in the toilet bowl, and might have poor working flush assembly. A modern toilet not only has a clean and updated look to it, but it also have a water efficient flush. Additionally, you can get an ADA height toilet, which many people find to be more comfortable to use if you are of average height or taller.
The best part is that a new toilet does not cost a whole lot of money! Additionally, many people are able to do the install all by themselves, saving themselves a plumber service call. Another great benefit is that some cities offer rebates for updating your toilet to a water efficient one. In average, all together, a new toilet usually can cost you less than $200.
Of course, if you want help installing a new toilet, call Always Affordable Plumbing. Making sure the new toilet is sitting properly on the flange, and the water line is connected properly, can be a little tricky for some people. It is better to do it right than to deal with issues and possible leaks after the fact.
New Shower Head
We talk to a lot of customers, and what we often hear is that upgrading their shower head is one of their favorite investments in their home. A nice hot shower helps us relax from a long day, or energizes us for the day to come. A simple upgrade to your shower head can make it feel like you are in a luxury spa! A new shower head is also an affordable upgrade.
This is a great bathroom update to make if your shower head is older. Over time, mineral deposits from our water supply will clog the shower head nozzles. This leaves you with less water flow, and uneven spray. You may not even realize how bad your shower head is until you replace it. Again, this is a simple upgrade that most people can manage to install by themselves. A new shower head can cost as little as $15. For less than $50 you can usually find some fancier options like "rain shower", hand held, or massage features.
Keep in mind that California has strict regulations in place for water usage which limits flow rates in shower heads. This can be frustrating for people who prefer high pressure shower flow. You can look for shower heads designed to meet low flow regulations while still providing great water pressure.
New Sink Fixture
Between face washing, teeth brushing, and hand washing, we spend a lot of time at our bathroom sinks. A new sink fixture can really elevate your bathroom look while also improving the experience. Let's face it, most standard fixtures are not the most attractive. Sure, they get the job done. The sink is often the focal point of a bathroom, and a simple upgrade to the fixture can totally change the look and feel of your bathroom. There are so many design options and finishes to choose from, and a pretty large price range. We recommend that you match the finish of your fixture to your new shower head and any other accessory upgrades you might be making, like towel rings. This helps create a cohesive look throughout your bathroom.
When it comes to a new sink fixture, you have to first determine what style you have-is it a two handle? A three hole? This way you are buying the right replacement that can be easily swapped in. Then decide what look you are going for. Do you want a modern, sleek look? Do you want a low or a tall neck? You can even have modern features, like touchless, for less than $100! Talk about an upgrade!
Your Sacramento Plumber is Here to Help
At the end of the day, Always Affordable Plumbing Sacramento and Solano loves helping our community with all your plumbing needs. Our Best Plumber Tips are provided to help you save money, prevent plumbing problems, or simply improve your experience. These three recommended upgrades are simple and affordable, and many people are able to do the install themselves. However, if you just don't have the time or know-how, we are here to help. We can do everything from helping you design the right look for your bathroom, to picking up and installing your new fixtures and toilet.
Some other simple things you can do to totally change the look and feel of your bathroom include getting a new floor mat with a big, bold design, changing the lighting fixture, hanging some art, and getting new counter organizers.
Service, quality, and affordability for our customers always comes first. Call today to schedule your appointment!
For our great plumbing tips and updates, FOLLOW US ON FACEBOOK!
CLICK HERE to learn about EASY WATER HEATER MAINTENANCE to save you money!
Find out more about Always Affordable Plumbing (Lic. #1003782) by calling:
SACRAMENTO VALLEY: (916) 970-0188
SOLANO COUNTY: (707) 410-3182 
Best Sacramento Plumber Bathroom Tips | Always Affordable Plumbing Sacramento