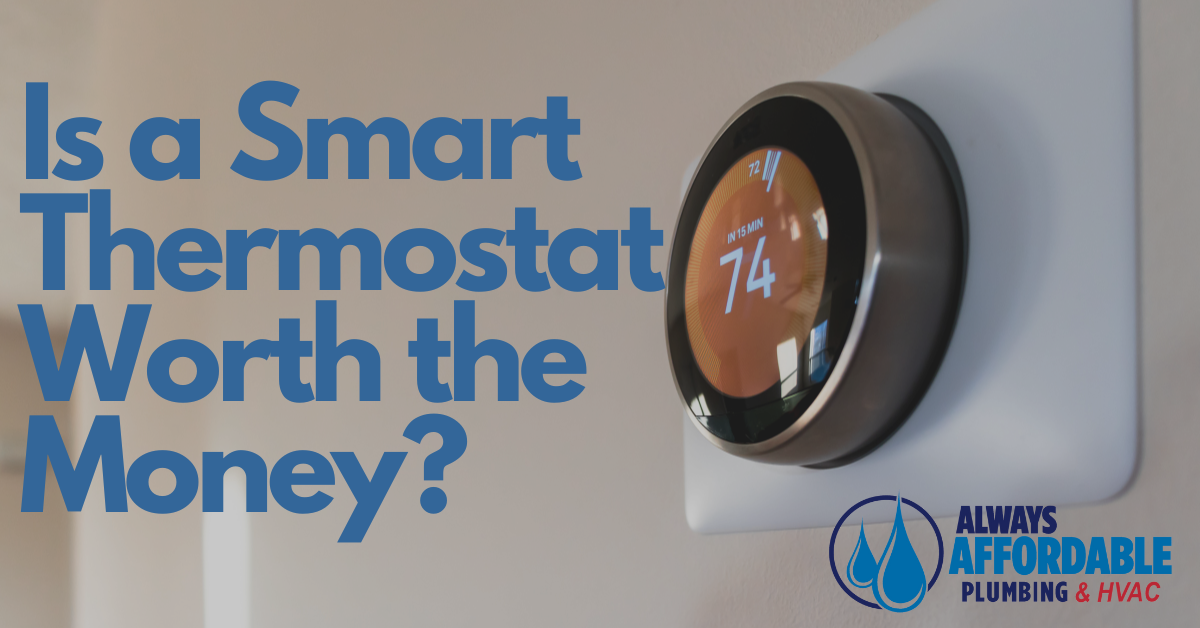 05 Jul

Can a Smart Thermostat Really Save Me Money?

Sacramento's Best HVAC Service | Always Affordable HVAC Sacramento
Smart Devices Are Neat, but Can a Smart Thermostat Actually Save Money? The Answer Might Surprise You…
The "Internet of Things" is really starting to take over households with many smart devices becoming more and more affordable. This can range from things like an Alexa device, to smart plugs and smart lighting. While all these devices carry a certain "wow" factor to them, do they actually bring value in addition to any added convenience? When it comes to controlling your home HVAC system, a smart thermostat can actually have a significant savings impact on your wallet! This is great news for people looking for any way to help reduce their HVAC bill. A smart thermostat can help you save money on your power bill in a number of really helpful ways!
Did you know that in Sacramento, the cost to run your AC can more than DOUBLE depending on when you run it?? (learn about "peak" SMUD times and money saving tips RIGHT HERE)
A Smart Thermostat is Easy to Program
One of the easiest ways to save money on your AC this summer is to only have it running when it needs to be running. What this means is that when we are home, we want the AC to kick on to cool the house down to a comfortable temperature. However, when we are gone, it is a complete waste of energy and money to keep the house cool. A traditional electronic thermostat allows you to set your temperature as well as set up "programs". For example, you may set your AC to not kick on until the temperature is 84 degrees starting at 8:00 a.m. when you leave for work. Then you may have it set to cool things down to 78 degrees starting at 5:00 p.m. when you get home from work. This is great, however, the truth is that many people struggle to actually set their programs properly. The interface is not very user friendly, and things get confusing when trying to change the program for different days. For example, on the weekend you may prefer a different program than during the week. Of course, many people reading this will think, "It is not really that difficult to figure out". However, in our experience, more often than not, people just set their temperature on "hold" and adjust it up and down as needed, simply because it is too difficult to actually set up the programs. Today's modern smart thermostats make programming super easy, particularly if you are already used to using a smart phone and apps. Many smart thermostats connect to an app on your phone, and have very user friendly screens and directions to set up programs. This allows you to totally customize your HVAC as needed to minimize wasteful operation.
Some Smart Thermostats Can Even Learn Your Preferences
Yes, some smart thermostats are more than just a pretty digital app. The top smart thermostats actually do some smart things for you to save money. For example, the Google Nest thermostat will actually start to learn your behaviors and patterns and start adjusting the temperature according to your preferences. For example, it will start to learn when you leave for work, when you get home, and when you go to bed. Then it will make temperature adjustments accordingly, based on your preferences. But that's not all! The Google Nest will also make recommendations to you based on your schedule to save energy (i.e. money), by suggesting a different temperature or setting. It will also alert you if there are any strange patterns in your heating or cooling that are outside the norm, that may be costing you more money. The Ecobee is another top rated smart thermostat. It comes with excellent voice controls and integrates with Siri and Alexa for those of you already building up your smart home. A great feature of the Ecobee is that it comes with a room sensor. This allows you to base your temperature settings on a specific room's temperature instead of the temperature where the thermostat is located. This feature, along with its learning capabilities help you save up to 26% annually on your HVAC costs, according to the manufacturer.
Remote Access Means Even Less Wasted Energy
The convenience of having a dedicated app for your thermostat goes beyond simplifying programming. With an app, you are able to check, and change your temperature remotely. That means if you decide to go out to dinner after work, you can adjust your thermostat from your phone to not kick on until later than usual. Or if you are on vacation, you can make sure your HVAC is not running unnecessarily.
Save Money with SMUD Starting RIGHT NOW
As we mentioned earlier, if you want to save money on your SMUD bill starting RIGHT NOW, then the easiest thing to do is understand their rate schedule. During summer, "peak" times are 2.5 X's more expensive than off-peak. Additionally, during summer, SMUD adds a "mid peak" rate which actually shortens your off peak times. To learn more about SMUD rates, visit them directly or check out our Best HVAC Money Saving Tips article! Additionally, if you are interested in upgrading to a smart thermostat, SMUD does offer discount pricing on select products. For example, check out this great price on the Google Nest: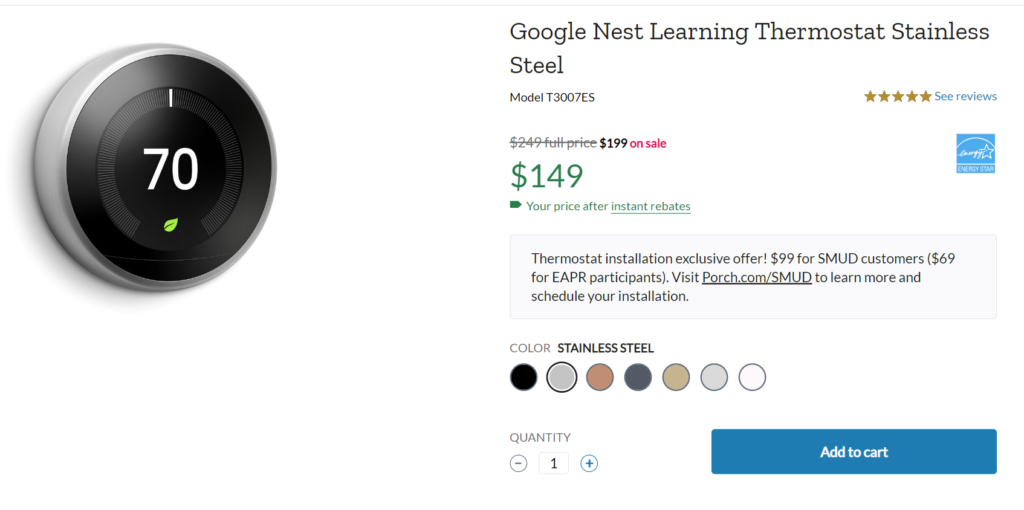 That's actually $50 cheaper than Amazon has it listed for! Speaking of Amazon, they have their own highly rated smart thermostat for just $41.99 right now. For the price, it is feature packed, and has easy integration with Alexa. The point is, it is quite affordable and worthwhile to invest in a smart thermostat to help you save money.
Call Always Affordable HVAC Today!
If you need help picking out or installing a new smart thermostat, Always Affordable HVAC is here for you. Additionally, are ready to schedule your annual AC Tune Up service today, and beat the heat? Always Affordable Plumbing and HVAC is proud to deliver AC and heater service to Sacramento and Solano County. As always, we provide our communities with honest and affordable services for your home or business.
Service, quality, and affordability for our customers always comes first. Call today to schedule your appointment!
For our great plumbing and HVAC tips and updates, FOLLOW US ON FACEBOOK!
CLICK HERE to learn about EASY WATER HEATER MAINTENANCE to save you money!
Find out more about Always Affordable Plumbing & HVAC (Lic. #1003782) by calling:
SACRAMENTO VALLEY: (916) 970-0188
SOLANO COUNTY: (707) 410-3182 
Sacramento's Best HVAC Service | Always Affordable HVAC Sacramento