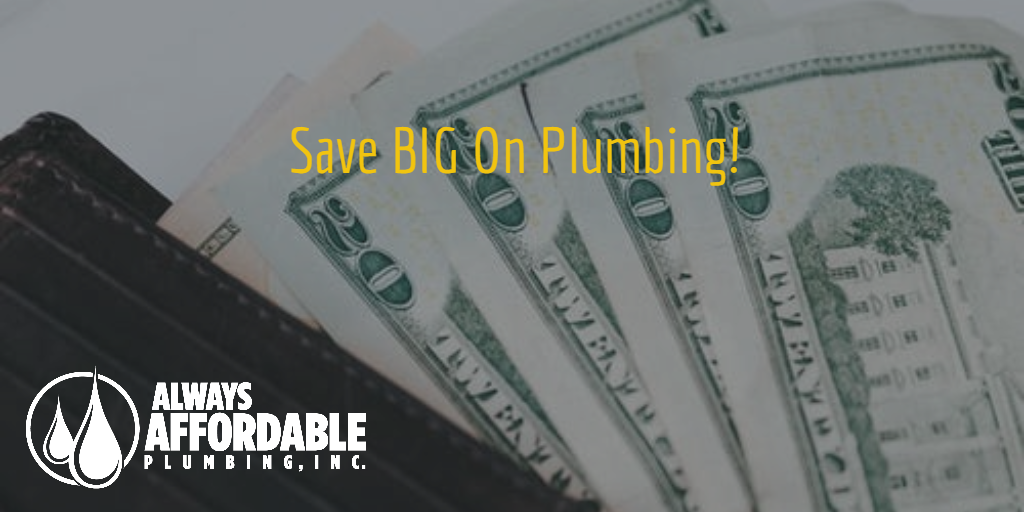 16 Feb

Discount Plumbing for All Your Plumbing Problems

Discount Plumbing Sacramento Fairfield | Always Affordable Plumbing
You Can Save Money on Plumbing Service with Our Discount Plumbing VIP Membership!
Having to call a plumber is usually a call that people dread. Usually when you need a plumber, it is because you have a pretty major plumbing problem going on. This could be a backed up toilet that floods your bathroom. It could be a slow or clogged drain. Or it could be a major leak. Whatever the problem, it is usually not something you were planning on having to deal with.
Affordable Plumbing Service in Sacramento and Fairfield
Always Affordable Plumbing has been providing the Sacramento Valley with honest, fair, and affordable plumbing service for years now. Recently, we expanded our service to Solano County and Fairfield. In addition to already providing great and affordable plumbing service, this year we introduced a Discount Plumbing VIP Membership program. It is our way of trying to help our community save even more money when they need our help!
A Discount Plumbing Plan That Helps You Save On Plumbing Problems
When you join our Discount Plumbing VIP Program you not only save money, you get some nice member perks as well. Here is how it works:
Pay a low monthly membership of $15
Receive 15% off ANY plumbing service
Receive priority scheduling (usually same day!)
Additionally, your Discount Plumbing VIP plan gives you additional savings on new installs, extended warranties, and includes an annual whole-home plumbing inspection!! All together, this plan will save you big out of pocket when you need plumbing service. Additionally, it will help you PREVENT plumbing problems with our included whole home inspection. Remember, it is usually cheaper to prevent a problem than it is to try and fix it too late. Our VIP program will basically pay for itself, year after year, while making sure you save even bigger on our already affordable plumbing service!
Don't Put it Off, Join Today!
Listen, we understand that you don't want to deal with a plumber until you have to. However, a little planning ahead goes a long ways. That is the idea with our Discount Plumbing VIP Program. Prevent problems, save money, and have peace of mind!
Service, quality, and affordability for our customers always comes first. Call today to schedule your appointment!
For our great plumbing tips and updates, FOLLOW US ON FACEBOOK!
CLICK HERE to learn about EASY WATER HEATER MAINTENANCE to save you money!
Find out more about Always Affordable Plumbing (Lic. #1003782) by calling:
SACRAMENTO VALLEY: (916) 970-0188
SOLANO COUNTY: (707) 410-3182 
Discount Plumbing Sacramento Fairfield | Always Affordable Plumbing