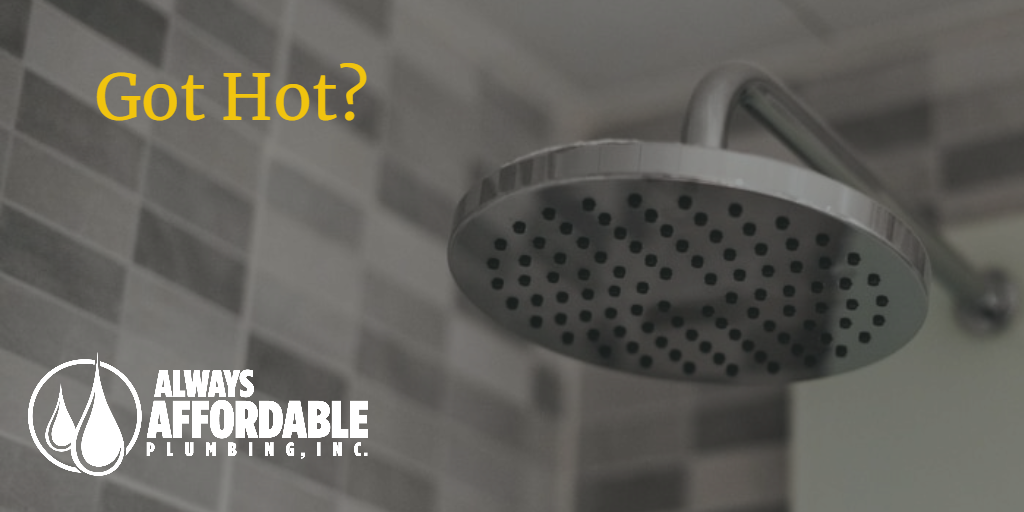 03 Dec

Hot Water Heater Problems? | Best East Bay Plumber Tips

Hot Water Heater Problems | Best East Bay Plumber Tips
Do You Notice Less Hot Water During the Winter Months? Here Are Some Possible Reasons Why…
We are finally in the winter months! This crazy 2020 year is coming to an end, and the temperatures are dropping. Even though the East Bay and Contra Costa County area doesn't typically get too cold, it can still be a noticeable change from our hot summer months. During the winter, do you notice that your showers are running a little cold? Many people complain of running out of hot shower water, particularly during winter. Always Affordable Plumbing is here to offer our Best East Bay Plumber Tips on hot water heaters.
Where is My Hot Water?!
First off, don't panic. We can figure this out. Here are some things to consider about your hot water tank:
The duration for which you will have hot water depends on things like type of hot water heater, size of tank, how hot you run your shower, how fast the hot water tank recovers, flow rate of your showerhead, and more.
The average 40 gallon hot water heater tank can typically provide about 45 minutes of hot water
If you notice that your showers are running out of hot water specifically during cold days, consider this:
During the winter months, the supply water coming into your hot water tank is probably colder than normal. This means that it takes more energy and time to heat up the tank water.
During colder mornings your house is probably colder too, so naturally, you are likely taking hotter showers than normal.
Both of these things will contribute to going through hot water faster than usual.
Do I Need a New Water Heater?
In the U.S., the average shower lasts about 8 minutes, and uses around 15 gallons. I mean, that is according to a Residential Water Study report. I don't know ANYONE who takes an 8 minute shower! It seems like most people take at least 10 minutes or more in the shower. Even still, a good working hot water heater should not be struggling to keep up with a "normal" shower, even when it is cold outside.
Here are some of the main reasons that your hot water heater is not keeping the water hot:
It is OLD!! The average tank hot water heater lasts between 8-12 years, IF you do your regular maintenance on it (which most people don't). Older than about 10 years? It might be time for a new one.
You have sediment build up. Our water has small particles, sediment, and minerals in it. Over the years, as water sits in your water tank, these deposits begin to build up on the bottom of the tank. This build up not only displaces your tank capacity (meaning you have less hot water available in the tank), it also makes all the heating components work harder to heat the water. Want to avoid sediment build up? Have Always Affordable Plumbing East Bay do your annual water heater maintenance service!
Broken dip tube. Water is supplied to your hot water tank by an inlet pipe that is on the top of the tank. This tube pushes incoming cold water to the bottom of the tank, where it gets heated. The hot water rises to the top of the tank, and goes to your shower from there. If your dip tube is broken, then that cold incoming water just mixes with the hot water, making it warm water, or even cold.
Broken thermostat. The thermostat controls how hot the water can get. If it is defective or broken, you will not have very good temperature regulation. Also, the Department of Energy recommends your thermostat be set to 120 degrees Fahrenheit. Most manufacturers have them set at 140 degrees when they are shipped out. If your temperature is too low, it can allow for harmful bacteria to grow in your water. If it is too high (above 140 degrees), it can damage heating elements and also cause scalding burns.
It is too small. Did your household grow in size recently? Are you running multiple "hot water" appliances (dishwasher, washing machine) at the same time you are taking a shower? Your hot water heater might just be too small to handle the load. Try spacing out showers and water use, see if this helps.
Some of these issues indicate that it might be time for a new hot water heater. Some of them can be easily fixed with the help of a licensed, professional plumber. If you are not sure what is causing the problem, then CALL ALWAYS AFFORDABLE PLUMBING TODAY. We will quickly schedule a hot water heater inspection. Additionally, we will figure out the issue and then give you your options. We can even go over the benefits of switching to a tankless water heater system.
Don't Delay, Get Your Hot Water Back TODAY!
If you are having hot water heater problems, it is best to take care of it right away. Some of the problems that cause you to lose hot water can cause more expensive issues if ignored. Additionally, if you don't address the issue, you run the risk of more damage to your hot water heater. This can also lead to a major hot water tank leak! For the best East Bay area plumber service and the most affordable plumbing CALL AAP TODAY!!!
Service, quality, and affordability for our customers always comes first. Call today to schedule your appointment!
For our great plumbing tips and updates, FOLLOW US ON FACEBOOK!
CLICK HERE to learn more about clearing a slow drain
Find out more about Always Affordable Plumbing (Lic. #1003782) by calling (916) 970-0188.
Hot Water Heater Problems | Best East Bay Plumber Tips