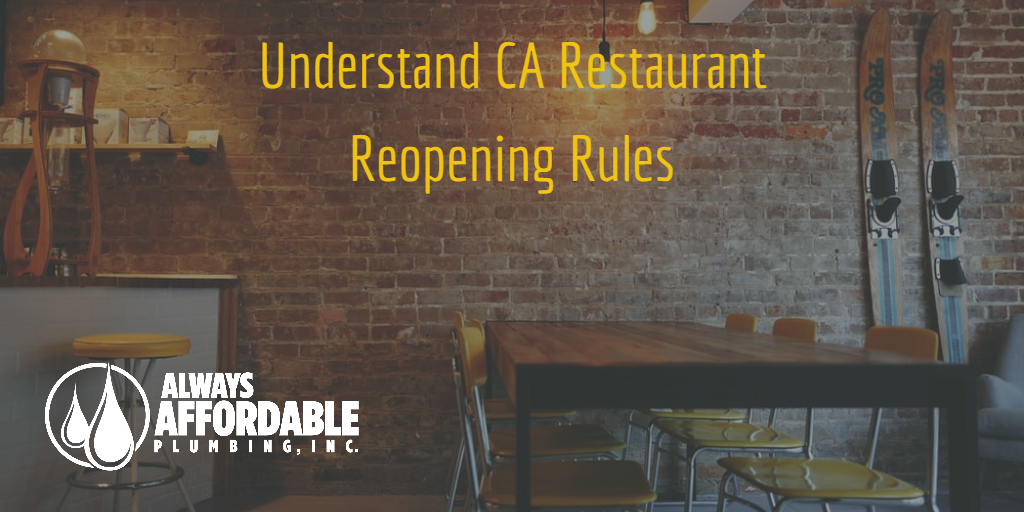 22 Oct

Is Your Restaurant Ready for the Next COVID Reopening Tier?
Don't Let Stagnant Pipes Derail Your Restaurant Re-Opening
Best East Bay Commercial Plumber | Restaurant Plumbing
Under the Governor's new COVID Tier system, counties receive weekly updates as to their progress and status. The California COVID tier system is a color code based system that measures positivity rates, cases, and also health equity metrics.
The COVID-19 Tiers are as follows:
Tier 1-PURPLE: Widespread
Tier 2-RED: Substantial
Tier 3-ORANGE: Moderate
Tier 4-YELLOW: Minimal
As counties successfully reduce their COVID-19 numbers, they will move into less restrictive tiers.
Progress Means More Restaurant Re-Openings
Less restrictive tiers mean that more businesses are able to re-open, or increase capacity. For restaurants, this might mean indoor dining to go along with outdoor seating, and more patrons. For example, this week is Alameda county's second week in the orange tier. The orange tier allowed for "many" indoor businesses to open at up to 50% capacity. Meanwhile, Contra Costa County is still in the red tier. The red tier is more restrictive, meaning that "some" indoor businesses may open at up to 25% capacity, and "most" businesses can operate outdoors with some restrictions.
How is Your Restaurant Impacted by Your County's Tier rating?
Ultimately, the tier system does provide for some opportunity. However, it can also be confusing.
Here is a breakdown of how each tier impacts a restaurant:
Tier 1-PURPLE: outdoor dining only, with restrictions
Tier 2-RED: limited indoor dining at 25% capacity, or 100 diners (whichever is fewer)
Tier 3-ORANGE: limited indoor dining at 50% capacity, or 200 diners (whichever is fewer)
Tier 4-YELLOW: limited indoor dining at 50% capacity
Regardless of what tier you fall under, your restaurant will still need to follow COVID-19 safety protocols. These include things like masks for servers, and maintaining appropriate distancing for diners. Check your county's current tier rating RIGHT HERE. If your restaurant is located in Contra Costa County, then make sure you are prepared to move into the Orange tier, which will allow you to double your current capacity!
Before reopening and using your restaurant plumbing again, you should consider flushing, clearing (hydro jetting), and flow testing your pipes. This is the single best way to help prevent any major plumbing issues as you reopen your restaurant.
How Re-opening Can Impact Your Restaurant Plumbing
The great news is that it appears as though many East Bay counties are moving in the right direction. This means more restaurants operating at more capacity. In anticipation of being able to potentially double capacity, restaurants should be taking every effort to ensure their commercial plumbing is ready to be back at work. In the hustle and stress of modifying dining space, creating outdoor seating, and managing staff and COVID-19 safety protocols, it is easy to forget about your restaurant plumbing.
It is important to realize that if your restaurant has or had been closed down for any period of time, your commercial plumbing needs attention. Additionally, as you have reopened, it is critical to get ahead of potential plumbing problems. Of course, the worst thing that can happen is to finally have a full restaurant (well, at least 50% full) and suddenly have your commercial plumbing fail on you. Your restaurant commercial plumbing is used to having a significant volume of work. If you had to close down at all, this means that your pipes were sitting stagnant. Potential issues from your restaurant plumbing not being used includes:
stagnant water breeds harmful bacteria
standing water can be potentially damaging to pipes and fixtures
stagnant water can cause corrosion to pipes and fixtures
FOG (fats, oils, grease) build up can harden without constant water flow
Before reopening and using your restaurant plumbing again, you should consider flushing, clearing (hydro jetting), and flow testing your pipes. This is the single best way to help prevent any major plumbing issues as you reopen your restaurant. In fact, this is a valuable service even if you have already reopened. It will help prevent any major blockages and can identify any problems. Preventing plumbing problems is part of what makes Always Affordable Plumbing the best East Bay plumber.
As you began to reopen at limited capacity, your pipes received some minimal flow. If they have been damaged in some way during your closure, or have developed some kind of blockage as crud and waste has congealed, then low volume water might not be an issue. Now, consider what can happen as you ramp up that volume as reopening restrictions loosen. Suddenly a small blockage can become a major issue or back up. A slow or clogged drain in your restaurant is something NOBODY can afford to have to deal with.
The Best East Bay Commercial Plumber
Don't roll the dice on your restaurant reopening! CALL ALWAYS AFFORDABLE PLUMBING EAST BAY. One of our licensed plumbers will do a thorough inspection of all your commercial plumbing to identify any potential issues. We then provide you with an inspection report, so you can plan and budget accordingly, if there are any red flags. Our goal is to help you prevent emergency plumbing issues by helping you with affordable and simple plumbing maintenance.
Service, quality, and affordability for our customers always comes first. Call today to schedule your appointment!
For our great plumbing tips and updates, FOLLOW US ON FACEBOOK!
CLICK HERE to learn about EASY WATER HEATER MAINTENANCE to save you money!
Find out more about Always Affordable Plumbing (Lic. #1003782) by calling (916) 970-0188.
Best East Bay Commercial Plumber | Restaurant Plumbing