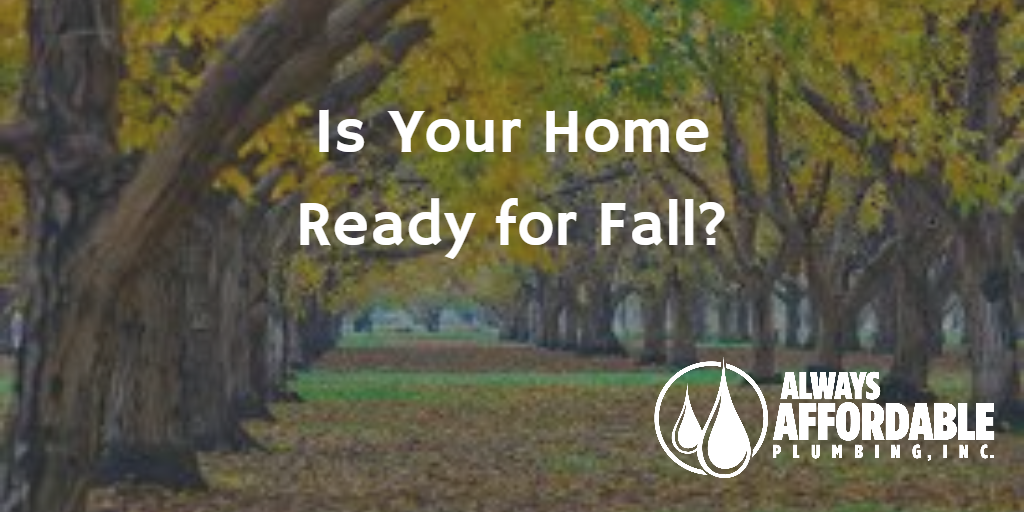 29 Oct

Sacramento Plumber Fall Plumbing Tips
As the seasons change, so to do the demands on your home plumbing. Here are some common issues to prepare for.
Sacramento Plumber | Fall Plumbing Tips
It feels like Sacramento is finally jumping into fall! The temperatures are down a good 10 degrees from just last week, and are evening temperatures are even getting down below 40! Not to mention, the crazy winds we have had helped expedite the "fall" of leaves we usually see this time of year.
With all these changes it is important to be mindful of how your home plumbing can be effected. Always Affordable Plumbing is the Sacramento plumber you can count on anytime you need help with your home plumbing!
Main Drain Issues
With all the leaves falling, it is possible for your main drain to back up. Leaves can easily clump together, especially when they get wet, and can clog up the main drain. If you are noticing your shower or sinks backing up, or slow drains in the house, you might need a licensed plumber. Always Affordable Plumbing can come out and check your main drain for any blocks, and help you clear them.
Cold Water
As the temperature drops, the water feeding into your water heater will be colder. This causes your water heater to have to work harder. You may notice it taking longer than usual to warm up your shower. Additionally, you may notice that you are running out of water sooner. This is usually easily corrected by turning up the thermostat on your water heater.
Generally, it is recommended to set your thermostat to 120 degrees. This temperature prevents scalding and saves energy, however, in cold weather, you might need to adjust this temperature up by 5-10 degrees for better performance.
Another important step you can take for your water heater is to perform an annual flushing. This clears out any sediment that has built up in the bottom of your water heater and can extend the life of your water heater. Learn more about that RIGHT HERE.
Frozen Pipes
This is not typically an issue in the greater Sacramento area, however, it is important to be prepared. When temperatures drop below freezing you can experience frozen or burst pipes.
An easy step you can take around here is to wrap your exterior faucets with styrofoam. These are usually available at your local hardware store and will help keep those exposed pipes from freezing. You should also disconnect your garden hoses when freezing temperatures are expected.
Garbage Disposal Issues
Tis' the season of holidays and festivities! Family visits, kids home from college, holiday parties! If your home fills up during holiday season, then your home plumbing will be under a lot of extra work. One item to remember is the garbage disposal. Be mindful what goes down the sink to prevent an untimely garbage disposal issue.
Clear Those Gutters
While not technically a part of your home plumbing, don't forget about your gutters. Be sure to clear them of debris and leaves before the rain starts to come.
The Sacramento Plumber for All Your Plumbing Needs
Helping you stay ahead of plumbing issues is one of the many ways Always Affordable Plumbing tries to help Sacramento. Following our simple tips will go a long ways in preventing major issues, and can sometimes give you a quick and affordable fix.
However, sometimes home plumbing issues just can't wait. The Always Affordable Plumbing team is your Sacramento plumber, available 24/7, even during the holidays.
For Sacramento's best plumber, CONTACT Always Affordable Plumbing!
Service, quality, and affordability for our customers always comes first. Call today to schedule your appointment!
For our great plumbing tips and updates, FOLLOW US ON FACEBOOK!
CLICK HERE to learn why "expensive" doesn't always mean "best" when it comes to plumbing
Sacramento Plumber | Fall Plumbing Tips
Find out more about Always Affordable Plumbing (Lic. #1003782) by calling (916) 970-0099.