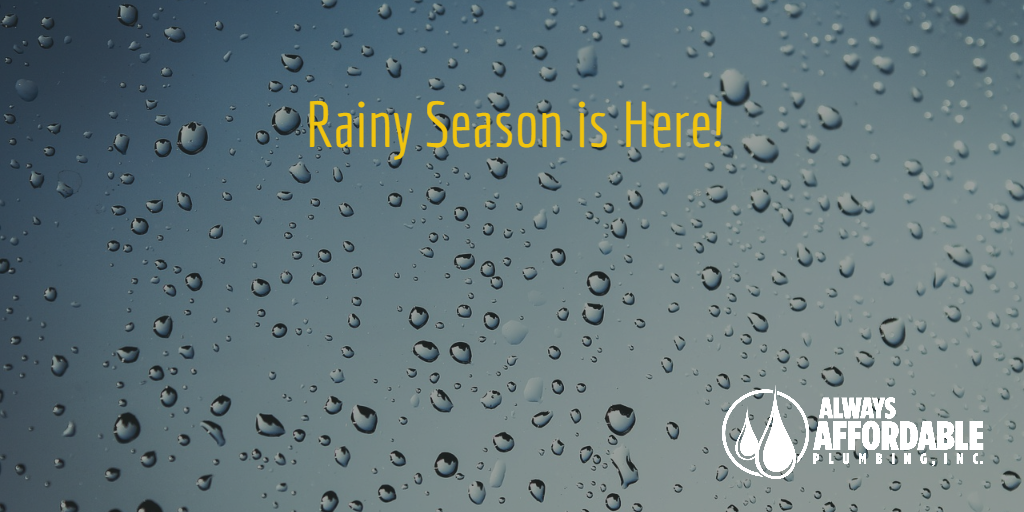 22 Oct

Will Heavy Rain Cause My Pipes to Back Up? | Sacramento Drain Cleaning

Sacramento Drain Cleaning | Always Affordable Plumbing Sacramento Solano
Rainy Season Can Bring a Number of Plumbing Issues
In case you haven't noticed, California is finally getting some rain! After facing the worst drought conditions in California history, a sudden heavy downpour is welcomed. However, rain can also bring a number of plumbing issues. Some that may even require a drain cleaning service. Here's what can go wrong with heavy rains.
Debris Clogs Your Drainage System
When we get a sudden and heavy rain it tends to wash out a lot of debris that has been laying around. This can include trash, leaves, branches, and plants. Even though this stuff is happening outside your home, it can still cause a problem inside your home. That debris can build up on and overwhelm your drainage system. When this happens, you may notice water backing up into your indoor plumbing.
Debris Clogs Your Main Sewer System
You may notice a large pile up of debris pile up around the drain grates along your street. This type of pile up may be even worse inside the main sewer lines for your city. When this happens, it is possible for your main drain to back up into your house. When this happens, you will notice sewer waste backing up into your shower, tub, toilet, and sinks.
Flooding From Blocked Drainage Lines
While this may be more of an "outdoor" issue, it is still important to point out. Your outdoor space is supposed to be designed in such a way that allows for water to flow towards a main external drain system. When done properly, you will avoid water pooling, and water will naturally follow the outdoor drainage system out to the street typically. It is important that you make sure your outdoor drain grates and lines are clear of debris to avoid pooling and flooding. Similarly, make sure that you keep your gutters clear too. Throughout summer and fall our gutters often go forgotten. Meanwhile, they are piling up with leaves and debris. This stuff blocks the drain, and you end up getting a waterfall effect coming out and over your gutters, instead of having the water drain out properly.
Pooling Water Can Burst Pipes
It is rare but it can happen. As water builds up in the ground and around your main drain and plumbing, the pressure can build up enough to damage your pipes. This is particularly true of older pipes. You may recognize this problem if the water coming out of your faucet is suddenly discolored, has a strange odor, or a strange taste.
Emergency Drain Cleaning Service is a Phone Call Away
If you find yourself with water backing up into your house then call Always Affordable Plumbing right away! We know a clogged drain line is always an inconvenience, and we will work hard and fast to restore flow to your plumbing. Our licensed plumbers will identify the cause of the problem, check your lines for any other issues, and provide you with your solution options.
Service, quality, and affordability for our customers always comes first. Call today to schedule your appointment!
For our great plumbing tips and updates, FOLLOW US ON FACEBOOK!
CLICK HERE to learn about EASY WATER HEATER MAINTENANCE to save you money!
Find out more about Always Affordable Plumbing (Lic. #1003782) by calling:
SACRAMENTO VALLEY: (916) 970-0188
SOLANO COUNTY: (707) 410-3182 
Sacramento Drain Cleaning | Always Affordable Plumbing Sacramento Solano