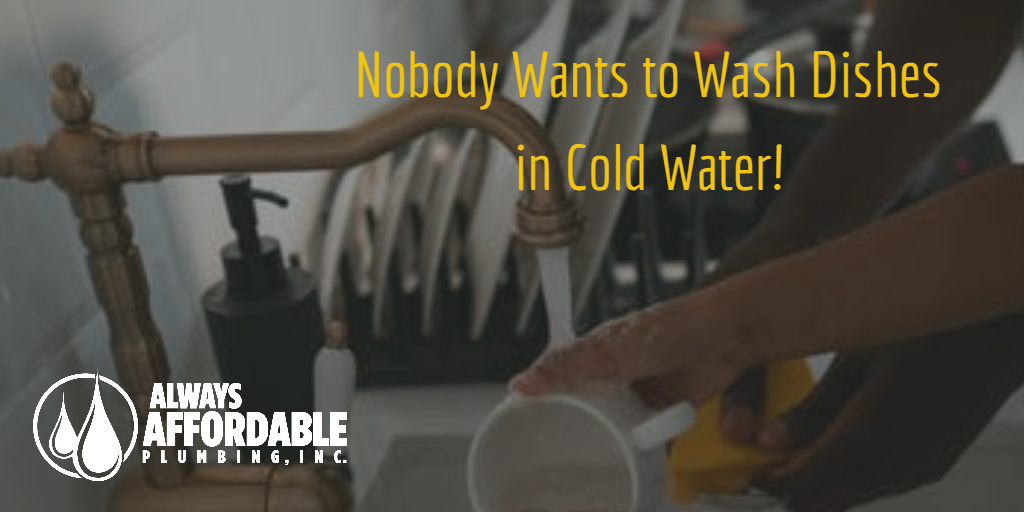 03 Feb

Discount Hot Water Heater Installation

Discount Plumbing Fairfield | Always Affordable Plumbing Solano and Sacramento
Save On a New Hot Water Heater!
Many people don't realize when it is time to replace their hot water heater. However, there are a few telltale signs that there is a problem. Replacing your hot water heater will save you money on energy and water waste. Not to mention, it will also put an end to those hurried showers before the hot water runs out! If you are looking for discount plumbing options, call Always Affordable Plumbing today!
Is it Time for a New Hot Water Heater?
Here are some ways to determine if you should replace your hot water heater.
YOUR WATER HEATER IS OLD!
Start here. Most tank style hot water heaters will last somewhere between 8-12 years…IF you perform proper annual maintenance on them. Let me guess. You didn't even know that your hot water heater even needed annual maintenance. At any rate, if your tank is older than about 10 years, it is likely on its last legs in terms of performance and efficiency, and a replacement should be considered. If you have a tankless hot water heater, then you should have about 20 years.
YOUR ENERGY BILL HAS GONE UP
Tank style water heaters are notorious energy vampires. Some estimates put their energy waste as high as 50%! As they get older, they will likely begin to lose efficiency. It may take more energy to heat the water up, which means more money. If your bill is suddenly higher, then consider that your hot water heater is the culprit.
YOU NOTICE LEAKS OR CORROSION
If you tank is looking a little beat up on the outside, then you should really worry about what it looks like on the inside. Meaning, fittings look corroded, or there are small leaks. Wires are frayed or exposed. If there is that kind of damage on the outside, then it is much worse on the inside. The risk you run at that point is total tank failure which results in a massive leak that will flood your garage or utility room. Leaks are a HUGE red flag of impending failure and should be addressed IMMEDIATELY. Other indications of build up and damage is hearing a knocking sound, or gurgling, from the water heater. Finally, you may notice your water has a tinged color to it. This is another direct indication of damage that needs to be addressed.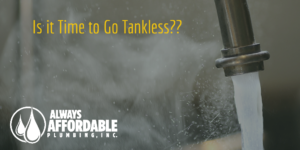 YOU GET COLD WATER, NOT HOT
This is sort of the big, obvious one. No hot water? Or hot water not lasting? It doesn't necessarily mean your tank needs to be replaced. However, it does indicate that it needs a professional inspection to test the thermostat, heating element, and other important components.
Get a Discount on a New Hot Water Heater Today
Always Affordable Plumbing Solano and Sacramento prides ourselves on providing the most honest and fair plumbing services to our community. Call us today for a hot water heater inspection, and we will let you know if we see any major or even minor issues. We can also perform annual hot water heater maintenance to help keep your hot water heater running its best. If it is time for a new hot water heater, we will check for any utility company rebates, and go over best options. This can include a comparison to switching to a tankless style heater.
Want to save even more money on a new water heater?? Then join our Discount Plumbing VIP Membership!! Get priority scheduling and instant discounts!!
Service, quality, and affordability for our customers always comes first. Call today to schedule your appointment!
For our great plumbing tips and updates, FOLLOW US ON FACEBOOK!
CLICK HERE to learn about EASY WATER HEATER MAINTENANCE to save you money!
Find out more about Always Affordable Plumbing (Lic. #1003782) by calling (916) 970-0188.
Discount Plumbing Fairfield | Always Affordable Plumbing Solano and Sacramento