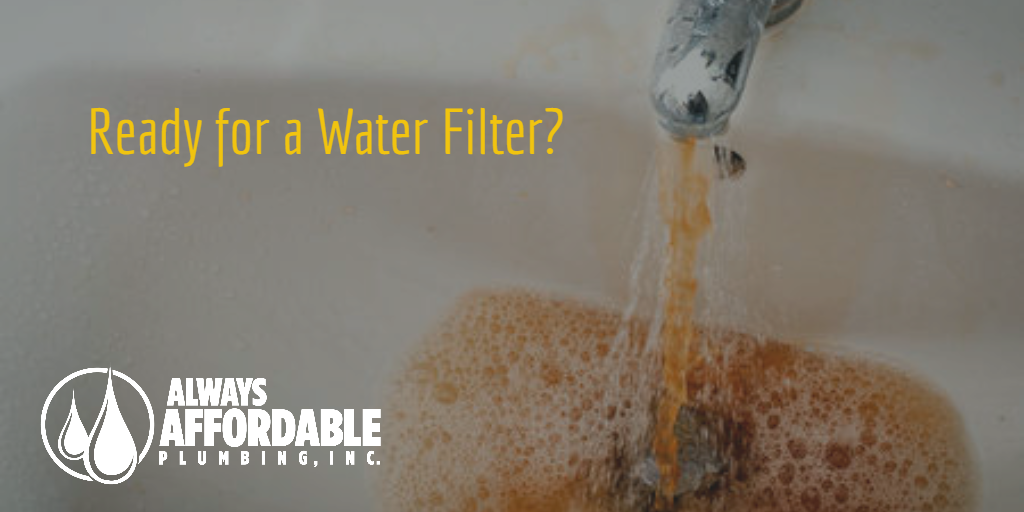 14 Jan

How a Home Water Filter Works | Affordable Fairfield Plumber

Home Water Filter | Always Affordable Fairfield Plumber
Can a Home Water Filter Really Improve Your Water?
If you have been keeping up with our best plumber tips and information, then you have seen the information we have been sharing about water quality. The water quality in Fairfield and Sacramento areas definitely meets EPA standards. However, that does not mean it is as clean or safe as it can be. The good news? You have some options. A home water filter has the ability to improve your tap water. A lot of our clients want to understand how a home water filter works, though, so here is a simple explanation.
Do I Really Need a Home Water Filter?
In plain plumber's terms: "YES!" If you live in Solano or Sacramento County, then your municipal water supply goes through water treatment. This treatment helps ensure that your tap water meets the EPA standards for "safe" water. However, their definition of "safe" and the "safe limits" of contaminants, have not been updated in over 20 years despite new research and information being available. In other words, your tap water is "legal", but it still has contaminants in it.
Some of these contaminants may be at levels that you are not comfortable drinking. Take chlorine, for example. The allowable limit for chlorine is higher than the levels needed to keep your pool clean! And I am pretty sure most of us wouldn't want to drink pool water. While it is important to have chlorine in our water treatment, to kill harmful bacteria, do you really need that same chlorine level coming out of your tap? We say NO.
What Does a Home Water Filter Remove?
It all depends on what type of filter you use. There are several options, all which provide different levels of filtration, and different prices. Always Affordable Plumbing Fairfield and Sacramento recommends a whole home filtration system. This is a complete filter system that not only filters out most contaminants, it also conditions your water. Conditioning your water prevents mineral deposits from building up on your fixtures and equipment. Additionally, by installing a "whole home" water filter, every single source of water at your house will be clean and filtered.
A home water filter works by collecting your tap water, and running it through a series of filters. These filters capture the tiny contaminant particles that make up things like chemicals and compounds that we don't want to drink. All that is left is pure, clean, SAFE water.
We understand that a whole home filter might not be for everyone, and we are prepared to go over ALL available options. This can include an "under the sink" type filter, or even just a simple filtered water pitcher. The most simple and affordable way to filter your water is with a carbon filter. These are typically installed with newer fridges that have a water dispenser. They are also available from companies like Brita, with filters that can be used in a water pitcher, or easily attached to your faucet. While a carbon filter won't get all the contaminants out, and won't condition your water, they are still much better than no filter.
BENEFITS OF A CARBON FILTER
Reduces:

TASTE
ODOR
VOC's
LEAD 
MERCURY
DISINFECTION BY PRODUCTS
PFAS
Get Cleaner Water in Your Home Today!
Are you ready to see what your options are for a home water filter? CALL AAP TODAY and one of our trained water technicians will perform an in-home water test for you. Then they will go over the results, explain any findings, and go over options if you want to know how to make your water safer. All this for FREE, with NO OBLIGATION!
Service, quality, and affordability for our customers always comes first. Call today to schedule your appointment!
For our great plumbing tips and updates, FOLLOW US ON FACEBOOK!
CLICK HERE to learn more about clearing a slow drain
Find out more about Always Affordable Plumbing (Lic. #1003782) by calling (916) 970-0188 for Sacramento plumbing service and (707) 410-3183 for Fairfield and Solano County plumbing service.
Home Water Filter | Always Affordable Fairfield Plumber