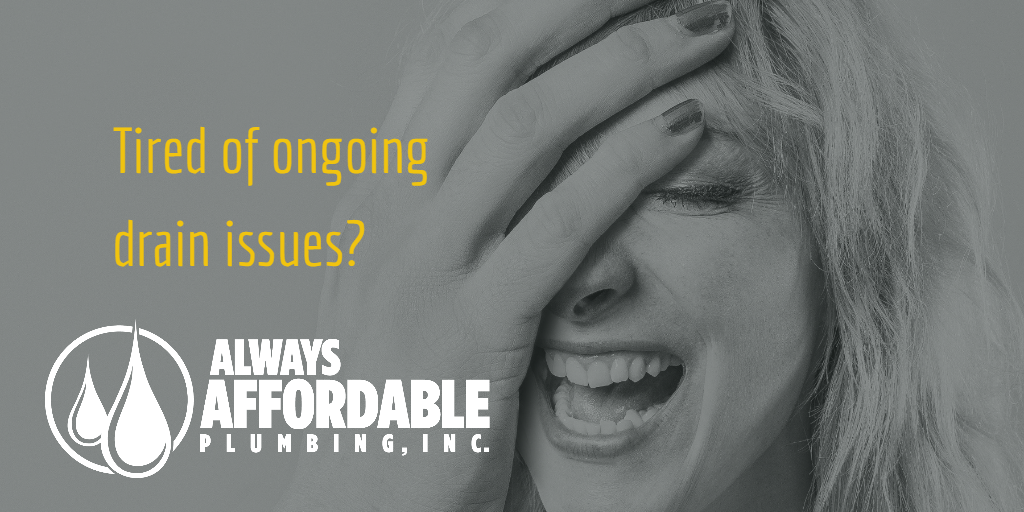 24 Apr

Call a Plumber for These Drain Issues | Always Affordable Plumbing

Always Affordable Plumbing Tips | Drain Issues
These Drain Issues are Usually a Sign That You Need a Professional Plumber
There are a lot of simple home plumbing issues that most people can handle on their own. Always Affordable Plumbing offers our best plumbing tips to try to help you with those. However, sometimes there are plumbing issues that you really should call a professional plumber from. These types of drain issues can mean there is something more going on:
1. Drain keeps clogging
Do you have a stubborn drain that seems to need your attention on a regular basis? Sure, using household drain cleaners or a plunger might provide the quick fix. However, next thing you know, it is clogged again. This is typically a sign of a drain issue that needs professional attention. Call Always Affordable Plumbing Sacramento to have one of our professionals identify the true cause and the correct fix!
2. Drain is slow
Sometimes you notice that you have a sink or tub with a notoriously slow drain. A lot of times this can be from something as simple as excessive hair trapped in the drain. Sometimes though, even after you remove the hair, the drain is still slower than it probably should be. This is usually due to excessive build-up or trapped hair deeper down the drain pipe. If your drain is persistently slow, you might want to have Always Affordable Plumbing take a look to make sure there isn't a bigger problem building.
---
Do I need to replace my garbage disposal? Tips on how to tell!
---
3. Multiple drains are plugged
This one is a big red flag. It is not usually a coincidence when you have multiple drains plugged or clogged at the same time. It is usually a sign of a major blockage somewhere along your main drain. Even if you can restore the drain yourself, this is usually a sign that you should call a professional plumber to inspect your main drain. Not only will Always Affordable Plumbing Sacramento inspect your main drain, we can provide you honest, affordable options should we identify any issues with your main drain.
For Affordable Plumbing, Sacramento, Call AAP
Always Affordable Plumbing is here to help! With 24-hour emergency plumbing service, FREE home plumbing inspections, and the best service and prices around, AAP is who to call!
Learn some of our best affordable plumbing tips to PREVENT expensive plumbing repairs!!
Always Affordable Plumbing Sacramento | Drain Issues