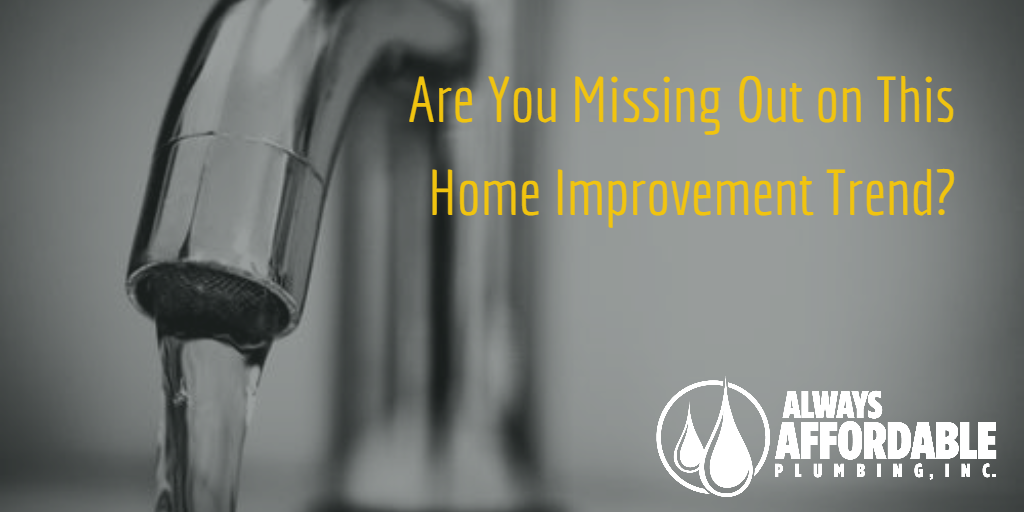 12 Mar

Is a TOUCH FREE faucet the way to go in home?

Bathroom Upgrades-Touch Free | Always Affordable Plumbing Sacramento
Is it Practical to Install a Touch Free Faucet at Home?
Most of us are used to seeing "hands free" or touch free faucets in public restrooms these days. Let's face it…none of us want to touch the faucet handle in a dirty gas station bathroom! Especially in today's COVID-19 world, we understand that handwashing is important. We also understand that frequently touched surfaces carry nasty germs. Touch free faucets are practically a public bathroom standard. But how about in our homes? Going hands free is becoming a lot more affordable and practical!
Benefits of a Touch Free Faucet
There are several benefits to installing a hands free faucet in your own home. These benefits include:
CONVENIENCE AND EASE OF USE
CLEANLINESS
SAVE MONEY, SAVE WATER
MODERN FORM AND FUNCTION
Let's take a quick look how these factors work in your home.
CONVENIENCE AND EASE OF USE
Simply place your hands under the faucet, and presto! Water turns on! Think about all those times your hands have been covered in something. We've all done the "wrist/elbow" faucet turn technique before right?? With a touchless faucet you don't have to worry about that anymore. Super convenient, super easy. This is especially helpful for children, who may already have a hard time reaching the sink, let alone the faucet handles. Another often forgotten convenience factor of touchless faucets is that the temperature is already set! No more worrying about the kiddos getting a little too much hot water.
CLEANLINESS
Of all the benefits, this may very well be the most important one. Bacteria and germs can live on surfaces for awhile. Particularly wet surfaces. We worry about germs out in public, but we also need to consider the germs in our own household. We wash our hands to get the germs and bacteria off of them (along with any number of messes), but in order to wash our hands we have to touch the faucet handle. Of course, this spreads any germs to the handle. We wash, so now our hands our clean. But now we have to turn OFF the water. So we touch the dirty faucet handle with our clean hands. And just like that…GERMS! It is clear how a touch free faucet can help prevent the spread of germs.
Additionally, an auto faucet helps prevent a mess on the vanity. Our wet hands turning off the water often cause water puddles behind and around the handles and spout. This can lead to mildew and mold. SAVE MONEY AND WATER! A hands free faucet is a small investment, for sure. They are going to be more expensive than a traditional faucet, sure. However, with an auto faucet you will be able to save money on water use. This may seem insignificant, however, most people don't realize how much water they actually waste in the sink. Studies show that we use about 20% of our total household water in the sink. Now consider that many people leave the sink running while doing things like brushing teeth, shaving, and washing dishes. This wastes over 10 gallons A DAY on average!! That adds up to thousands over the course of a year. An auto faucet makes it easy to break old habits.
Affordable Faucet Installs and Advice
Sacramento's best plumbing service is here to help you decide if an auto faucet is the right option for your house. Installing touch free faucets, and even touch free flush in home is not as wild a novelty as it might have been even just 5 years ago. Always Affordable Plumbing believes that touch free will become the standard in the near future. The future can be NOW for your family! Call today to see your options and cost of installing a touch free faucet in your home!
WANT A FREE HOME PLUMBING INSPECTION?? JOIN OUR DISCOUNT PLUMBING MEMBERSHIP PROGRAM!!!
Service, quality, and affordability for our customers always comes first. Call today to schedule your appointment!
For our great plumbing tips and updates, FOLLOW US ON FACEBOOK!
CLICK HERE to learn about EASY WATER HEATER MAINTENANCE to save you money!
Find out more about Always Affordable Plumbing (Lic. #1003782) by calling:
SACRAMENTO VALLEY: (916) 970-0188
SOLANO COUNTY: (707) 410-3182 
Bathroom Upgrades-Touch Free | Always Affordable Plumbing Sacramento