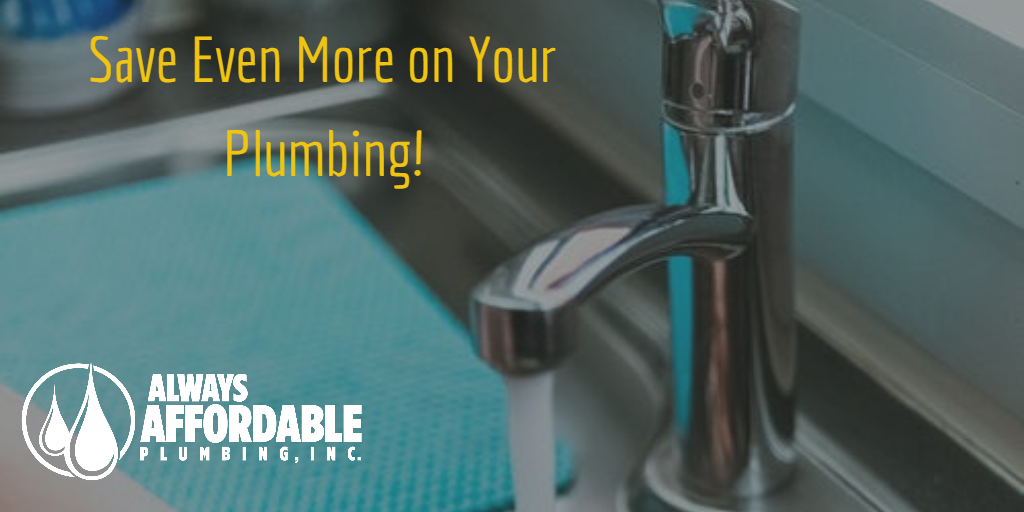 28 Dec

VIP Plumbing Membership to Save Money!

Affordable Plumbing Solano | Plumbing Discount
Want to Save Even More Money on Your Plumbing? Join the AAP Membership!
Always Affordable Plumbing Solano and Sacramento strives to save you money. We understand that plumbing repairs are never convenient, and can be expensive. Always Affordable Plumbing has found another way to save our customers money! New for 2021, we are introducing our VIP Plumbing Membership!
Best Plumbing Tips to Prevent Repairs
AAP always strives to give our customers the best VALUE and PRICING on plumbing services. In fact, AAP was started because our founder was tired of the negative and dishonest reputation of the plumbing industry as a whole. "High quality work that is budget friendly" is part of our mission. Additionally, we are always transparent and want our customers to feel comfortable with the estimates we have provided. Our staff will go above and beyond to ensure you understand the work being done and the costs associated.
In other words, it is important to us that you understand our recommendation, options, and cost. Whenever possible, we try to give our customers multiple options. This is just one way we are changing the plumbing industry.
Another way we try to help our customers and community is to offer free plumbing tips and advice. If you read through our "PLUMBING TIPS" page, you will find loads of great articles. Many of these articles provide you with our best plumbing tips that might actually help you AVOID having to call us out for a repair! Imagine that-a plumbing company that tries to help you avoid needing us! It almost doesn't make sense. However, to Always Affordable Plumbing, it is just our way of doing business.
Some of our Best Plumbing Tips articles include:
We want to help our community as much as possible, and if that means saving you time and money by avoiding a plumbing service call, then great! In the end, we want our Sacramento and Solano communities to know that Always Affordable Plumbing is truly here for YOU.
Yet Another Way to Save Money on Plumbing Service
Helping you prevent a plumbing repair is the best way to save you money. However, we understand that some plumbing repairs are just unavoidable. Additionally, we know that not everyone is comfortable trying to "do-it-yourself", even with our best plumbing tips. When you do need a plumber, Always Affordable Plumbing wants to give you every possible way to save money. A new way that we are doing this for Sacramento and Solano County is by offering a VIP Plumbing Membership. Our membership is only $15/mo., and can save you a LOT of money.
The VIP Membership includes many benefits designed to save you money AND give you a little additional special treatment. VIP Membership benefits include:
15% OFF Service and Repairs
5% OFF new installations
Preferred scheduling, USUALLY WITHIN AN HOUR!!
Extended warranties on new installs
FREE estimates and diagnostics
ANNUAL whole home plumbing inspection and plumbing tune-up
All that for just $15/month!! Our membership will easily pay for itself the first time you need service, and also pays for itself with the annual inspection.
AAP Expands to Offer Affordable Plumbing in Solano County
Always Affordable Plumbing has been serving the Sacramento Valley for years now. We now bring affordable plumbing to Solano County too!
Affordable Plumber Solano | Plumbing Discount