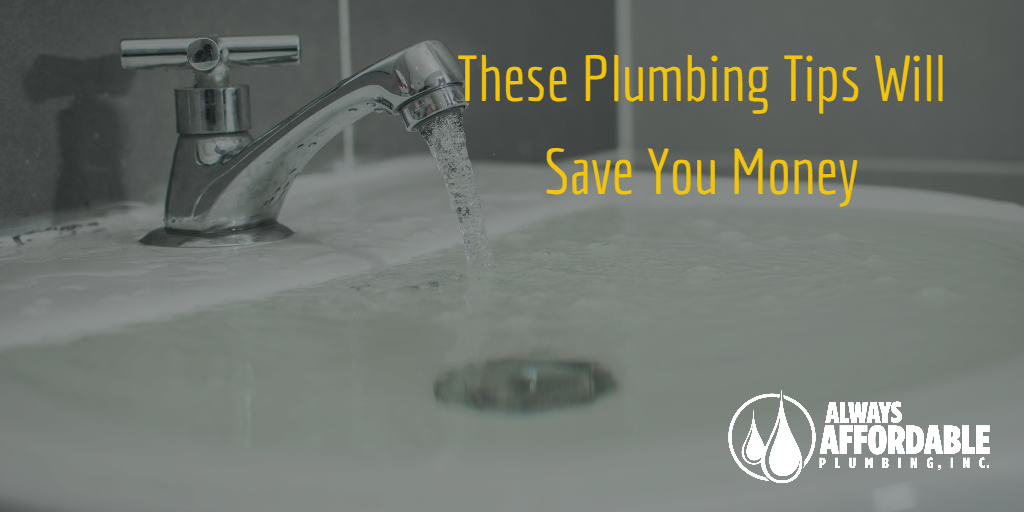 18 Nov

Top-4 Best Plumber Tips to Save You Money

Best Solano Plumber Tips | Always Affordable Plumbing Solano Sacramento
These Simple Tips Will Help You Avoid Major Plumbing Problems at Home
Hey, we get it. Nobody wants to have to call a plumber. We walk into all kinds of situations which are always inconvenient and frustrating for our customers, and we try to make the best of it. Our plumbing service is centered around honesty and affordability. Always Affordable Plumbing realizes, however, that the most affordable plumbing service is the one that does not need to be called! Which is why we offer our Best Plumber Tips to our community. Today's Best Plumber Tips focuses on 4 simple things that everyone should know when it comes to plumbing. These tips will help prevent problems, help keep small problems from getting big, and can actually fix some problems on the spot!
BEST PLUMBER TIP #1
Know How to Use a Plunger
Yes, the plumber's magic tool, the plunger! Most people are familiar with this affordable and effective device, but do you really know how to use it? You would not believe how many plumbing service calls we get that are quickly fixed with some plunging. That is because while many people own a plunger, they don't necessarily know how to use it properly. Additionally, a plunger is not just for a clogged toilet. A plunger can also help clear a clogged sink. To learn how to use a plunger like a pro, please CLICK HERE. Using a plunger properly can easily help you avoid a plumbing service call.
BEST PLUMBER TIP #2
Know Where Your Water Shut Off Valve is Located
Every house has a main water shut off valve. This valve turns off all the water to the house. This is critical if you find yourself with a burst pipe or uncontrolled leak. Trust us when we say that there is nothing more stressful than trying to find that shut off valve while your kitchen is flooding! Being able to shut off your water while you wait for Always Affordable Plumbing to show up will help prevent more water damage and expense. Every home is different, so this is just a general reference for you. What you should do after reading this is take a couple of minutes to go find your shut off valve. Most commonly, the main water valve will be located near your water meter, on the front side of your house. This is because the city water main runs along the street and branches off to each house. If you live on a corner, then your water valve may be located on the side. Sometimes this valve is attached to the front exterior wall, and sometimes you will find it in the ground in an accessible underground box with a large plastic lid. The valve can be a gate valve style, which requires you to turn the knob to the right until it won't turn any more. This may take several full turns of the knob…and just remember, "righty-tighty" to turn OFF a knob. Newer homes will likely have a ball valve, which just features a handle that needs to be turned 90 degrees. You know a ball valve is OPEN when the handle is in-line with the pipe. You know it is OFF or CLOSED when the handle is perpendicular to the pipe. If your valve is located in an underground box, then you might have to do a little minor gardening in order to find it! Over the years, grass and shrubs commonly grow over these boxes, making them hard to locate. Clearing it out now will save you a ton of time and money should you ever need to access your valve in an emergency!
BEST PLUMBER TIP #3
Don't Overtighten Plumbing Connections!
If you have ever tried connecting a water line to a toilet tank, then you know how frustrating it can be to deal with plumbing connections! You twist it on, make it tight, then turn the water on…and BOOM! You notice a tiny bead of water build up, that eventually turns into a small leak. Ughh! Of course, the natural reaction for this is to tighten the connection even more (probably right after a couple of choice 4 letter words). Still, the leak keeps on dripping, or maybe even gets worse. The reality is, most simple plumbing connections, like the water line to your toilet tank, or the trap under your sink, are made of cheap plastic. Plastic threads are not always perfectly smooth, and plastic can also crack fairly easily. This means when you are threading a line or connection, it has to be just right. Lined up just right on the threads, and also tightened just right. Unfortunately, there is no clear way to measure how tight these simple connections should be. What we recommend is finger tight, plus about a quarter turn. Now, this only applies to simple, low pressure connections. High pressure hoses, like for your washing machine, should be tightened properly according to the manufacturer, and usually requires a wrench. Indeed, a gentle hand is required for most basic plumbing connections. Really make sure that it is threading on properly (you shouldn't have to "force" the connection to thread), and don't make it too tight.
BEST PLUMBER TIP #4
Buy a Drain Snake Hair Removal Tool
We have written about these great tools a few times now, but it is worth repeating. A simple drain snake tool will do wonders for your bathroom sinks and tubs! We are not talking about a manual auger. We are talking about the long, thin, plastic, serrated tool that you slide down your drain then pull back out to remove all kinds of hair knots and gunk. Seriously, you will be absolutely shocked as to how effective this tool is at clearing a slow drain. Not to mention you will likely be horrified by what you pull out! The best thing is that you can get a pack of them on Amazon for under $10. You don't even need a pack of them, to be honest. One is fine. The point is, they are incredibly affordable and effective. Most people don't realize that their slow sink and tub drains are caused by simple hair and gunk balls that build up in and around the drain plug. Now, this tool is not effective for clogs that are further down your pipes, however, for the cost and simplicity this should be everyone's go-to option for a slow drain before calling for a plumber.
Best Plumber Tips to Save You Money
Hopefully you find our best plumber tips helpful! Our goal is always to help keep plumbing service affordable and honest for our community. If you find that you need professional plumbing service in Solano or Sacramento areas, please call Always Affordable Plumbing! We can help you with drain cleaning service, leak detection, hydro jetting, hot water heater installations, water filter installation, and more.
LEARN MORE ABOUT HYDRO JETTING SERVICE HERE
We are already booking up fast leading up to the holidays, so be sure to call and schedule your drain cleaning service NOW.
Service, quality, and affordability for our customers always comes first. Call today to schedule your appointment!
For our great plumbing tips and updates, FOLLOW US ON FACEBOOK!
CLICK HERE to learn about EASY WATER HEATER MAINTENANCE to save you money!
Find out more about Always Affordable Plumbing (Lic. #1003782) by calling:
SACRAMENTO VALLEY: (916) 970-0188
SOLANO COUNTY: (707) 410-3182 
Best Solano Plumber Tips | Always Affordable Plumbing Solano Sacramento