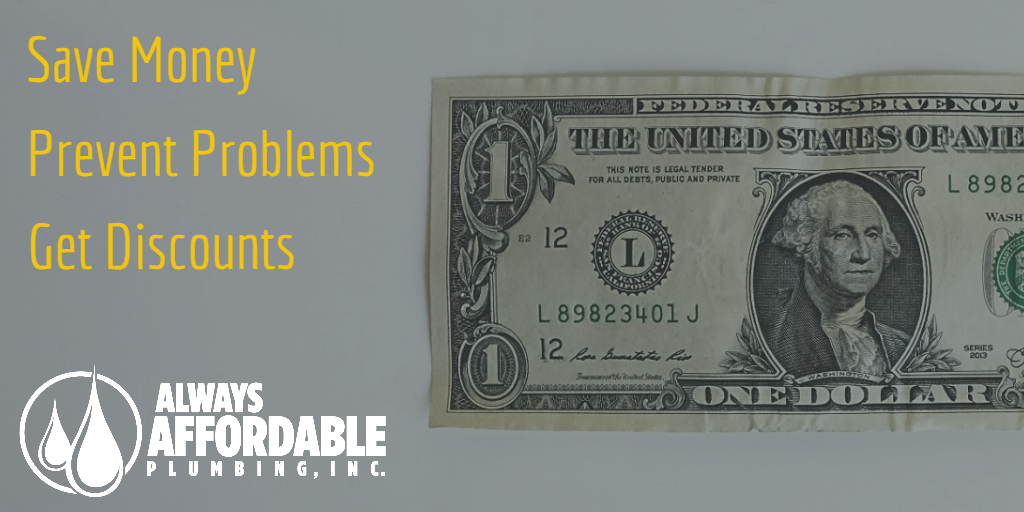 24 May

Discount Solano Plumber-Save Money on Emergency Plumbing!

Discount Solano Plumber | Discount Plumbing Membership
Here is How to Get Preferred Scheduling and Discount Plumber Service and Repair
Always Affordable Plumbing in Solano County strives to provide the community with honest, affordable plumbing service. We keep our rates as reasonable as possible for you. Most importantly, we don't try to upsell you on repairs that you don't really need. Additionally, we find other ways to help you save money on plumbing repairs. We offer free plumbing tips, ways to avoid plumbing issues, and simple repair guides. We also try to find you rebates and discounts from Solano County and from equipment manufacturers. If you want the best in plumbing service AND pricing, consider joining our Discount Plumbing VIP Membership program!
Discount Solano Plumber Membership
For just $15/month you can join the Always Affordable Plumbing Discount Plumbing program. There are so many great benefits with our Solano Discount Plumbing program that not only save you money but help you prevent plumbing issues. Our membership benefits include:
SAVE 15% ON SERVICE AND REPAIRS!!!

SAVE 5% ON NEW INSTALLS!!!

EXTENDED WARRANTIES ON NEW INSTALLS

PREFERRED SCHEDULING (usually within 1 hour)

FREE ESTIMATES AND DIAGNOSTICS

FREE ANNUAL HOME PLUMBING INSPECTION AND TUNE UP
Those types of service discounts means that your membership basically pays for itself! On top of that, we include extras like preferred scheduling, free estimates, and a free yearly plumbing inspection! That is truly a VIP experience! Most plumbers will charge you "emergency" rates for a 1 hour response, and also charge for a service call just to figure out what is wrong. With our Discount Plumbing program, all of that is included.
Save Money, but Also Prevent Plumbing Problems
Our membership program definitely saves you money on your plumbing needs. However, it will also help you prevent plumbing issues. How? The annual home plumbing inspection!! This valuable service helps you by identifying or finding small problems before they become big problems. For example, we might identify corrosion on a fitting and replace it, thus avoiding a leak problem. Don't wait until you have a problem to join our Discount Plumbing Program! Join now and we
WANT A FREE HOME PLUMBING INSPECTION?? JOIN OUR DISCOUNT PLUMBING MEMBERSHIP PROGRAM!!!
Service, quality, and affordability for our customers always comes first. Call today to schedule your appointment!
For our great plumbing tips and updates, FOLLOW US ON FACEBOOK!
CLICK HERE to learn about EASY WATER HEATER MAINTENANCE to save you money!
Find out more about Always Affordable Plumbing (Lic. #1003782) by calling:
SACRAMENTO VALLEY: (916) 970-0188
SOLANO COUNTY: (707) 410-3182 
Discount Solano Plumber | Discount Plumbing Membership