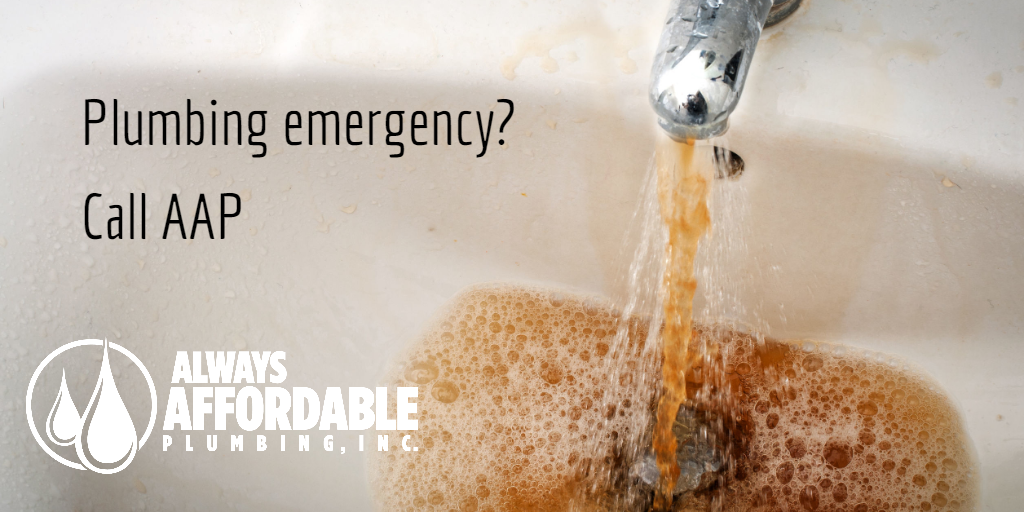 01 Aug

Pipe Flooding | Emergency Plumber Sacramento

Emergency Plumber Sacramento | Broken Pipe Flooding
Ever Come Home to a Flooded House? For Emergency Plumbing, Call Always Affordable Plumbing 24/7!
There are many reasons that can cause a major flood in your house. It is one of the worst scenarios to come home to! If you need an emergency plumber in the Sacramento area, Always Affordable Plumbing is always available, 24/7. With emergency dispatch at the ready, Always Affordable Plumbing can quickly handle any plumbing emergency.
Not All Emergencies Are the Same
Keep in mind a plumbing emergency doesn't just mean a major flood or broken pipe. Emergency plumbing can include a plugged toilet, clogged drain, or some other kind of water issue. Anything that is preventing you from using your plumbing when you need it can be considered an emergency. In general, when these issues occur "after hours" is when it is a major inconvenience. Even a simple repair can be considered an "emergency" if it happens in the middle of the night. Don't hesitate to call Always Affordable Plumbing for any plumbing issues, big or small.
Common Emergency Plumbing Issues
Any plumbing issue can be considered an "emergency" if it is preventing you from doing what you need to be doing. So don't feel bad about calling us 24/7 for your emergency plumbing needs! Some of the most common emergency plumbing issues we see include:
This could be something small, like a leaking water heater valve. It can also be something major, like a rusted out tank. A small leak can interrupt your hot water, and ring up your water bill, while slowly causing water damage as it goes unnoticed. A major leak is generally noticed right away and can cause flooding in your garage.
Leaking washing machine hose
Generic factory hoses can wear out, causing water to flood into your laundry room. The best way to prevent a hose leak is to inspect them a couple times a year for bulging, wear, or kinking. Replacing your washing machine hose is generally inexpensive and easy, and you can read about it HERE. If your laundry room is flooded and you are not sure where the problem is, call Always Affordable Plumbing!
Clogged bath/shower drain
Nothing worse than being in the middle of a shower and all of a sudden the water starts to fill the bottom! Bath and shower drains clog easily due to a build up of hair and soap residue, but can generally be cleared quickly and easily for you!
Leaking faucets and toilets
A small leak under your sink may not seem like a big deal, but it can go unnoticed for years. Then all of a sudden you have wood rot and water damage! This is an example of an easy, cheap repair becoming a major plumbing emergency!
Now this is one that generally falls under "major" plumbing emergency. This can occur due to freeze, yes even in Sacramento! But more commonly we experience broken pipes from tree roots or earthquakes, or from some kind of digging accident. Always know where your water shut off valve is before digging!
This is another major plumbing emergency. When the sewer line is clogged, sewage can back up into your toilets and tubs. GROSS! Now imagine this happening during a busy Holiday weekend with lots of family in town! Talk about a plumbing emergency! Day or night, call Always Affordable Plumbing to get this one fixed ASAP.
Emergency Plumber Sacramento is a Call Away
These tips are here to help you catch small problems before they become big. Always Affordable Plumbing is here to help with any job, big or small! So if our tips help you find an issue, give us a call and we can help.
If you need an emergency plumber Sacramento, call AAP. Whether you need a FREE Home Plumbing Inspection, emergency 24-hour plumbing services, leak detection, or have an issue with slow drains, Always Affordable Plumbing is here for you. Service, quality, and affordability for our customers always comes first. Call today to schedule your appointment!
For our great plumbing tips and updates, FOLLOW US ON FACEBOOK!
Learn some of our best affordable plumbing tips to PREVENT expensive plumbing repairs!!
Emergency Plumber Sacramento | Broken Pipe Flooding