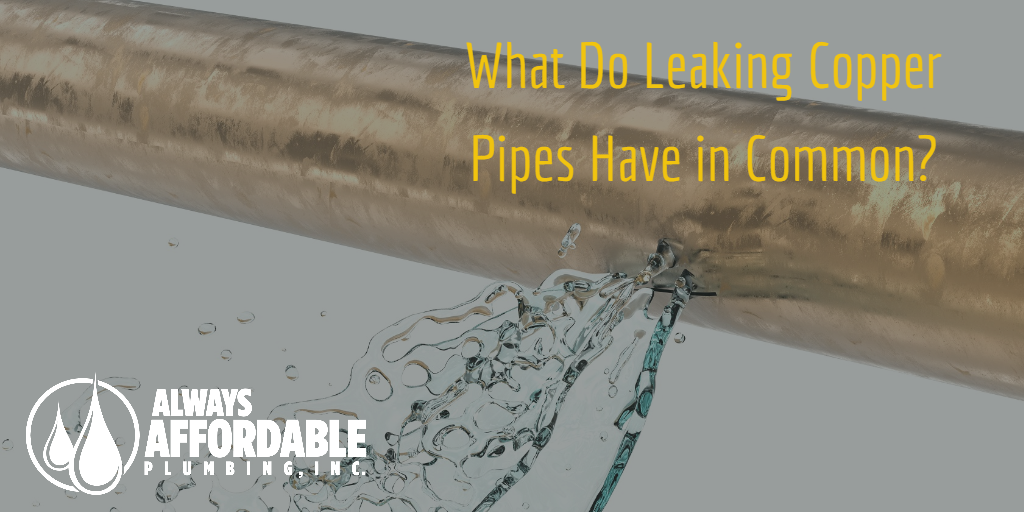 08 Sep

Re-piping Copper Pipes: 3 Trends in Pinhole Leaks
Pinhole Leaks in Copper Pipes in Folsom Are a Major Problem
Re-piping Copper Pipes | Pipe Leak Repair Sacramento
There is a major problem going on around Folsom as people are reporting pinhole leaks in their copper piping. Even these small leaks can cause major water damage to your home. While the city searches for answers, Always Affordable Plumbing is the affordable Folsom plumber you should call for help!
What is Causing Pinhole Leaks?
The exact cause of these pinhole leaks in copper pipes in Folsom is unknown at this time. According to Folsom engineers, in a CBS report from August, there are three trends about these leaks:
they are usually on the cold water line
typically being found on horizontal lines
primarily happening to homes built between 1980-2000
These leaks can start out small, with just one pinhole. However, there are also instances of copper pipes having multiple pinhole leaks, causing severe water damage. One reasonable explanation is that something in the water is causing these copper pipes to degrade. While the water may be safe to drink, it may contain chemicals that corrodes copper pipes. This damage could have been occurring for decades, and is only now showing the damage.
Do I have to Re-pipe My Home?
The short answer? It depends. In general, if one part of your copper piping has been damaged enough to have pinhole leaks, then it is likely to be just a matter of time before more leaks pop up. So while re-piping a small section of copper pipe might be a quick and affordable fix, it is also a gamble. Re-piping a home is no small task, however, considering the potential water damage from multiple pinhole leaks, it may be the best solution. A licensed, professional plumber from Always Affordable Plumbing can provide you with your options after a thorough inspection.
In addition to re-piping copper pipes in your home, Always Affordable Plumbing generally recommends installation of a whole-home water treatment system. Always Affordable Plumbing recommends a system like HALO, because of its low maintenance and high quality. Additionally, it treats ALL the water coming into your home, not just your "tap" water. In this way, a home water treatment system can possibly prevent future pipe damage from water chemicals.
If you are concerned about pinhole leaks in your copper pipes, CONTACT Always Affordable Plumbing today for a full inspection. Don't wait until extensive water damage forces emergency plumbing service!
Service, quality, and affordability for our customers always comes first. Call today to schedule your appointment!
For our great plumbing tips and updates, FOLLOW US ON FACEBOOK!
CLICK HERE to learn about EASY WATER HEATER MAINTENANCE to save you money!
Find out more about Always Affordable Plumbing (Lic. #1003782) by calling (916) 970-0188.
Re-piping Copper Pipes | Pipe Leak Repair Folsom