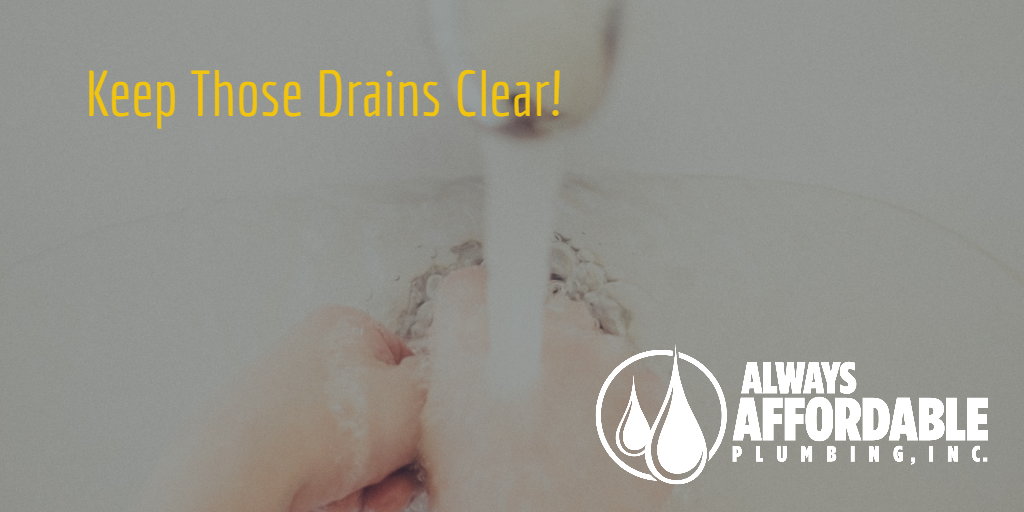 25 Jun

Drain Cleaning Service Keeps Things Running Smooth

Sacramento Drain Cleaning | Slow Drain Solutions
Don't Wait for a Major Drain Issue to Get Drain Cleaning Service!
Let's just be real. When it comes to home maintenance, "out-of-sight, out-of-mind" is the common philosophy. If you don't have a glaring issue, why put time and money into it? Always Affordable Plumbing Sacramento believes that a little bit of prevention actually goes a long ways in saving you both time and money. Our Best Plumber Tips try to help you guys learn how to do the little things on your own (and leave the big things to the pro's), while also explaining things about plumbing that most people don't know. Like the importance of performing annual water heater maintenance, for example.
Drains Need Maintenance Too
Surprising to most people is that your home drains need a little love too! However, most people don't think about this until they have a MAJOR backup or drain issue. Then they have to shell out big bucks for an emergency drain cleaning service. Let's go over some of the things that happen to your drains over time which lead to problems:
root intrusion
deterioration
pests
build up of FOG
debris trapping
pinhole leaks
hairline cracks
All of these things will lead to a major drain clogging issue if they go unchecked. By major, we mean significant damage to your pipes which can result in flooding and big leaks. The good news is that you can prevent a major flood or leak with a little drain maintenance!
Signs That Your Drains Need Maintenance
There are classic indications that you need drain cleaning service. These usually present themselves before a major flood, leak, or clog occurs, so pay attention. They include:
slow drains from shower, sinks, or kitchen
frequent toilet clogs that shouldn't be clogging
strange water back up into tub or shower
odors from sinks
kitchen sink backs up when you use garbage disposal
How to Prevent a Major Drain Issue with Drain Cleaning Service
Here is the trick…DON'T WAIT for a major issue! If you are experiencing any of the issues above, then you should schedule a drain cleaning service with Always Affordable Plumbing. Our licensed plumber will inspect and test your drains for problems. We have drain camera capabilities if we need to see what is going on, and we also have the right equipment to properly clean up those drains! One of the best drain cleaning service tools that we offer is hydro jetting. This high pressure tool uses water to clear out your drains, blasting away all build up lining the inside of the drain, as well as blowing out any debris traps and small clogs. This restores your drain pipes to their full capabilities, but most importantly, it will clear out those small problems that lead to major issues. For the best Sacramento drain cleaning service and the most affordable plumbing CALL AAP TODAY!!!
Service, quality, and affordability for our customers always comes first. Call today to schedule your appointment!
For our great plumbing tips and updates, FOLLOW US ON FACEBOOK!
CLICK HERE to learn about EASY WATER HEATER MAINTENANCE to save you money!
Find out more about Always Affordable Plumbing (Lic. #1003782) by calling:
SACRAMENTO VALLEY: (916) 970-0188
SOLANO COUNTY: (707) 410-3182 
Sacramento Drain Cleaning | Slow Drain Solutions