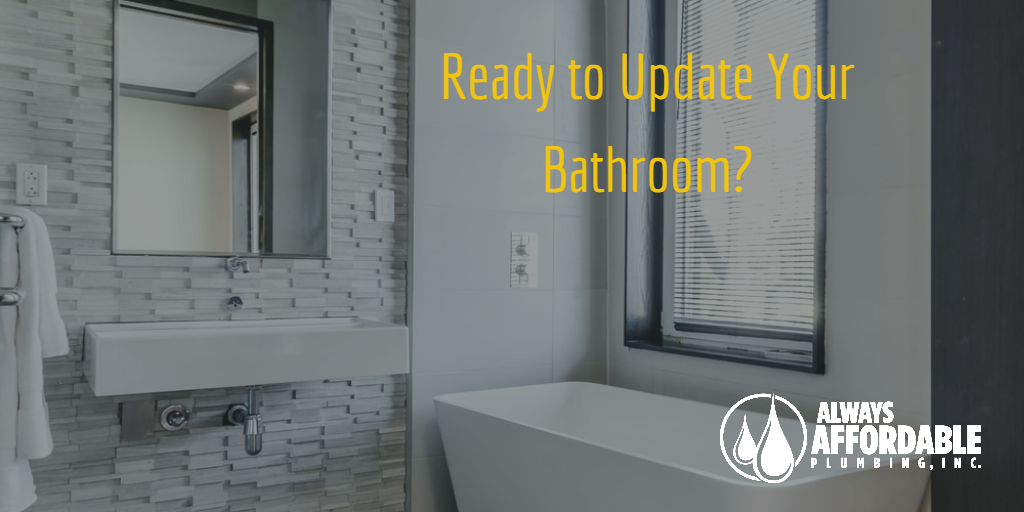 21 Jan

Best Solano Plumber Tips: How Can I Add Value to My House?

Best Solano Plumber Tips | Always Affordable Plumbing Fairfield
Simple Bathroom Updates Are a Great Investment
If you own your own home, then you might be planning to sell it one day. Of course, when that day comes, you will want to get the most money possible for your home. There are many factors that go into home value. However, one important aspect is making sure that your home has lots of appeal to prospective buyers. Realtors and home experts agree, one of the best investments you can make in your home to increase its value is updating the bathrooms. In our Best Solano Plumber Tips today, we will go over some bathroom remodel information.
Spend Money on a Bathroom, Get More Money for Your House
According to Zillow, cosmetic changes to your bathroom have one of the highest Return On Investment (ROI) for bathroom remodels. They estimate that for every $1.00 you spend on your bathroom to update and upgrade it, you will see an increase in home value by $1.71. What that means is that you don't have to do a total tear down of your bathroom to increase the value of your home. Simple updates and upgrades go a long way. Of course, this assumes that the bathroom is in generally good condition already.
What Are Some Simple Upgrades to Make to My Bathroom?
Updating your bathroom does not necessarily have to mean major renovations. There are many little things you can do to improve your bathroom without spending a ton of money. Also, unless you are suddenly in a hurry to sell your home, these are things you can do over time. Not only will this increase your home value when you do sell it, it will make your own bathroom experience a little nicer while you still live there.
Some simple bathroom upgrade ideas:
a new toilet
new sink fixtures
upgrade shower fixture
fresh paint
These are all simple and relatively affordable changes you can make that will instantly freshen up a dated bathroom. If you want to go a step further you can consider a new vanity and flooring. However, those are much more expensive projects.
Do You Need a Plumber for Bathroom Remodeling?
Our Best Solano Plumber Tips are all about trying to help people save money and avoid plumbing problems. The bathroom updates above are great, not just because they are affordable, but because most people can probably do them on their own. You don't have to use a plumber to install a new toilet or sink fixture. If you are pretty handy it is not too difficult of a "DIY" project.
However, if you are not too sure about these installations, then of course you should call Always Affordable Plumbing-trust us when we say that you want to make sure you install your new bathroom upgrades properly! The best thing is, if you are part of our Discount Plumbing VIP Membership plan, then not only will you get preferred scheduling, you will get a nice discount on our installation service too!
Ready to update your bathroom? CALL US TODAY! Always Affordable Plumbing serves Fairfield, Solano County, and Sacramento County. This includes Rocklin, Roseville, and El Dorado County too!
Service, quality, and affordability for our customers always comes first. Call today to schedule your appointment!
For our great plumbing tips and updates, FOLLOW US ON FACEBOOK!
CLICK HERE to learn more about clearing a slow drain
Find out more about Always Affordable Plumbing (Lic. #1003782) by calling (916) 970-0188 for Sacramento plumbing service and (707) 410-3183 for Fairfield and Solano County plumbing service.
Best Solano Plumber Tips | Always Affordable Plumbing Fairfield