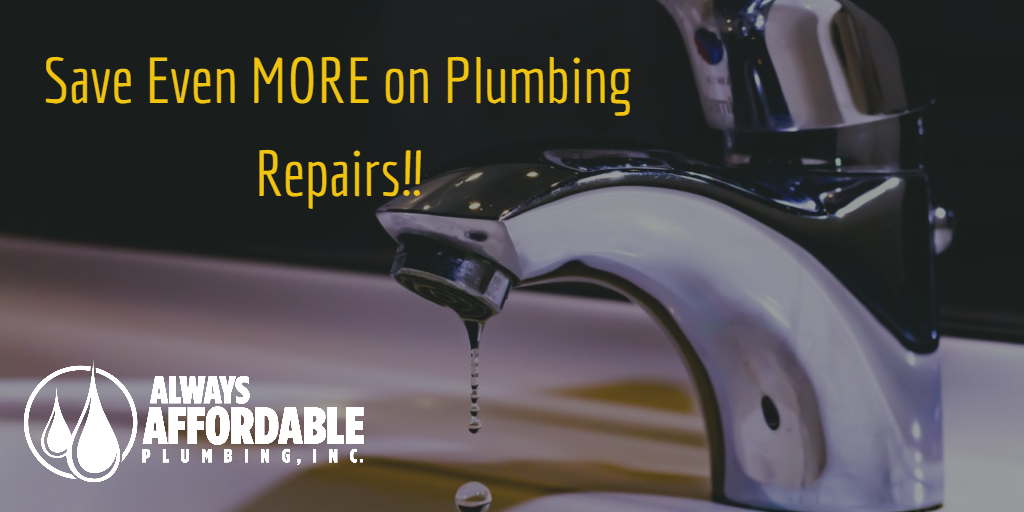 15 Jan

Discount Plumbing | Always Affordable Fairfield Plumber

Always Affordable Fairfield Plumber | Discount Plumbing VIP Membership
Save Money on Plumbing with a VIP Membership
Nobody likes to shell out money when they have plumbing issues. Let's face it, most plumbing emergencies happen at the worst possible time. Always Affordable Plumbing works hard to always provide honest, affordable plumbing services in Fairfield, Solano County, and Sacramento. However, even we understand that a fix isn't always affordable. That is why we are now offering a Discount Plumbing VIP Membership!
How to Save Money on Plumbing
Here is the thing. When it comes to saving money on plumbing, there are a few options:
Use a reputable, honest company (*ahem…)
PREVENT problems with basic maintenance and tips (see our Plumbing Tips page)
Find discounts and deals (…or a Discount Plumbing VIP Membership)
The best thing about Always Affordable Plumbing is that we can cover ALL THREE of those money saving tips when it comes to plumbing services! Our new Discount Plumbing VIP Membership just takes money saving to the next level. Here is how…
Membership with Benefits
OK, so first things first. Our Discount Plumbing VIP Membership costs just $15/month. That is not even $200/year. That is a small expense that actually ends up paying for itself the moment you need plumbing service. Our membership plan not only provides significant plumbing discounts, it includes some major VIP perks too. Here is how:
*FREE ESTIMATES
That's right! Get FREE repair estimates AND diagnostics. That means not only will we tell you what is wrong, we will tell you what it will cost to fix it. No obligation. No hassle. Most plumbing companies charge for a service call, and we would too (you kind of have to if you want to keep good licensed plumbers working). However, our VIP Members get this upgraded benefit, which saves you the out-of-pocket expense for a service call. A service call can run between $50-$150 depending who you call.
*15% OFF SERVICE AND REPAIRS
This is where we really pile on the savings…pretty cut and dry. A flat 15% off any service or repair. That can save you a couple of hundred bucks on a major repair. By the way, we don't mark up our services just so we can discount them. We are Always Affordable Plumbing for a reason!
*PREFERRED SCHEDULING
This is a big perk. Now, it might not save you money in terms of  a discount, but when time is money, this one is pure gold! Here's the thing…we know that 100% of plumbing emergencies need to be fixed NOW. Even a simple backed up toilet is a major inconvenience. When you are one of our VIP Members, you get preferred scheduling, usually within the hour. That's right! Most companies will charge you extra for "emergency" plumbing, but when you are a Member, you get preferential treatment. Get us out there, and get your plumbing fixed, and get back to your life.
*FREE ANNUAL PLUMBING INSPECTION
Here is another one that saves you a ton of money without costing you anything. We always preach prevention. Meaning, the best way to SAVE money is to spend a little to prevent a major issue. With a FREE PLUMBING INSPECTION, we will help you identify any potential problems, and give you options on how to deal with it. All with no money out of pocket. This is such an important service that is often overlooked, but trust us when we tell you, it is a lot easier to prevent a problem than it is to fix one.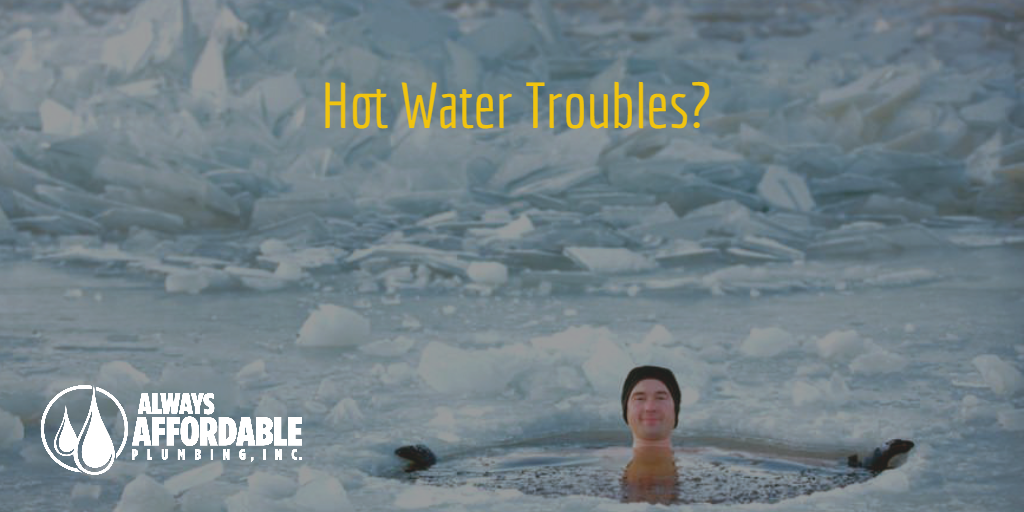 LEARN HOW TO EXTEND THE LIFE OF YOUR WATER HEATER 
As you can see, there is a lot to like about our Discount Plumbing VIP Membership. Always Affordable Plumbing serves Fairfield, Solano County, and Sacramento County. This includes Rocklin, Roseville, and El Dorado County too! To learn more about our Membership, please CALL US TODAY!
Service, quality, and affordability for our customers always comes first. Call today to schedule your appointment!
For our great plumbing tips and updates, FOLLOW US ON FACEBOOK!
CLICK HERE to learn more about clearing a slow drain
Find out more about Always Affordable Plumbing (Lic. #1003782) by calling (916) 970-0188 for Sacramento plumbing service and (707) 410-3183 for Fairfield and Solano County plumbing service.
Always Affordable Fairfield Plumber | Discount Plumbing VIP Membership