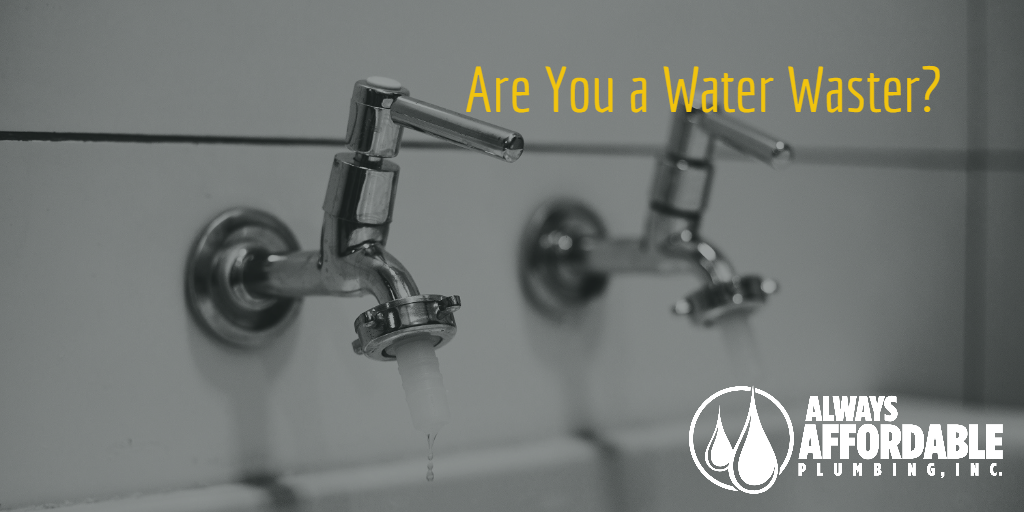 15 May

Fairfield's Best Plumber Tips: Water Conservation

Water Restrictions Solano County | Always Affordable Plumbing Fairfield
Here Are Some of the Best Tips On How to Save Water Around Your House
Here in California we understand that water conservation is really important. Especially coming off another year of less than hoped for snowpack. We all need to do our part to reduce water waste. The good news is, saving water is easy to do, and more importantly maybe, it will help you save money on your water bill! Here are some of Fairfield's Best Plumber Tips on saving water…
Easy Ways to Save Water INSIDE
Making small changes around the house might seem insignificant at first, but over the course of a year it actually adds up! These simple changes will save an important amount of water while also reducing your water bill.
FILL THE BATH HALFWAY
Do you love a nice hot bath at the end of the day? Or do you use the bath for the kiddos? That is great! However, we often use way more water than needed in the tub. If you only fill up about halfway you can save 12 gallons of water per bath!! Not to mention the hot water heater energy savings you can get.
FIND AND FIX LEAKS
We talk about this ALOT because it is a BIG deal! The real challenge is finding those little leaks, because they don't often cause obvious water damage until months later. Finding and fixing little leaks can actually save up to 110 gallons a month!!
INSTALL WATER EFFICIENT TOILETS
A new, water smart toilet can save 19 gallons per person PER DAY. These new toilets have much more powerful and efficient flushes, greatly reducing water waste. Additionally, depending on your water district, you may qualify for a rebate to change out your old toilets.
TURN THE WATER OFF WHILE BRUSHING TEETH, SHAVING, OR DOING DISHES
How many of us leave the faucet running when we are doing things around the sink? I know I was guilty of this habit, especially when washing dishes. It just took a little mindfulness to change my habit. Turning off the water while you brush can save up to 10 gallons of water, per person, per day. Again, a simple change that yields significant results. Want a way to help you turn the water off? Consider installing a touchless auto faucet! These aren't just for restaurants and commercial buildings anymore, and are an affordable and attractive home upgrade.
RUN THE LAUNDRY AND DISHES ONLY WHEN FULL
Try to only run your washing machine and your dishwasher when totally full. While some washing machines can sense load size and adjust water use, many still don't do this. Running a full wash can save between 15-45 gallons per load, while running the dishwasher full can save 5-15 gallons per load. As you can see, these easy changes actually add up to quite a bit of water conservation. Don't forget that saving water also saves you money! Call Always Affordable Plumbing Fairfield if you want help installing water smart fixtures, finding hidden leaks, or installing a new toilet. We will also help you find any available rebates that will help pay you to save water!
WANT A FREE HOME PLUMBING INSPECTION?? JOIN OUR DISCOUNT PLUMBING MEMBERSHIP PROGRAM!!!
Service, quality, and affordability for our customers always comes first. Call today to schedule your appointment!
For our great plumbing tips and updates, FOLLOW US ON FACEBOOK!
CLICK HERE to learn about EASY WATER HEATER MAINTENANCE to save you money!
Find out more about Always Affordable Plumbing (Lic. #1003782) by calling:
SACRAMENTO VALLEY: (916) 970-0188
SOLANO COUNTY: (707) 410-3182 
Water Restrictions Solano County | Always Affordable Plumbing Fairfield